Okay, we'll admit we stole the headline from one of the comments about this car prank from Down Under.
It's hard to imagine how the two roommates behind this story will live together in the future, except perhaps as cellmates.
Top Gear UK asked whether this stunt, which involved one young Aussie spending his life savings to destroy his friend's car with a one-ton hammer, was "the most elaborate car prank you've ever seen."
And happily we saw it from many different angles because of all the cameras the prankster used to capture the event. Our favorite was the axe-handle eye-view:
• Sticking a little closer to home than, say, India, Top Gear ventured to Abergavenny in Wales this week to race mobility scooters in the center of town.
The South Wales Argus reported that Jeremy Clarkson, Richard Hammond and James May "caused chaos" while driving customized scooters, including one with six wheels and one with tank tracks instead of wheels.
The paper said that Hammond started up a conversation with one fan, Caroline Brock, a scooterer herself.
"He challenged me to a race outside the shop as far as Mountain Warehouse and I beat him – twice," bragged Brock, who was happy to rub her victory in. "When I told Jeremy I beat Richard, he was chuffed and gave me a pickled onion from a jar he bought in the butcher's."
"It is not yet known why the team chose Abergavenny for the trial," the Argus wrote.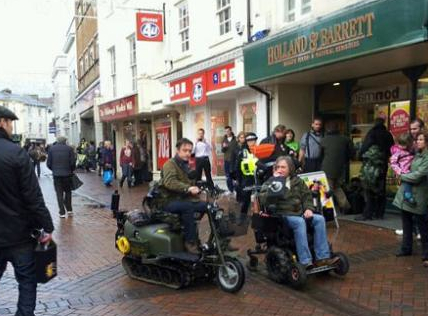 • "Hungary, Belarus and Somalia, we've outstripped you," boasts Top Gear UK. "And look out Chad: you're next."
Top Gear is bragging about number of "likes" on its Facebook page, which the site says will top 10 million any day now.
And they intend to be prepared for it.
Because it's simply not possible to let a "number as auspicious as 10 MILLION go past without a proper Top Gear celebration," the site asked fans for suggestions on how to mark the milestone. Claiming to have received 7,832 suggestions in just a little over six hours, Top Gear decided that a large act of destruction (we'll admit we saw that one coming) would be the most appropriate way to go. They're going to blow up a "caravan," by which they mean one of those mobile homes to which you attach a car.
Read More
Filed Under: