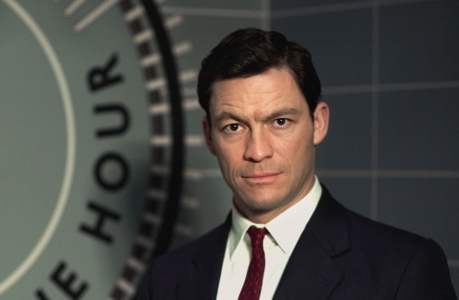 The Golden Globes are handed out this Sunday (January 15), and there's not only tough competition for the Golden Globe's best actor in a TV movie/miniseries category, but the contest is especially Brit-heavy. Out of five nominees, only one, William Hurt (Too Big to Fail) is not from the UK.
Dominic West is most decidedly from the UK — though you certainly couldn't blame viewers who've seen him only as a Baltimore cop in The Wire for not knowing that.
In The Hour, part of BBC America's Dramaville, West plays upper-class TV presenter Hector Madden, hired onto a news show mostly for his looks. But as the Suez Crisis of 1956 develops, along with lots of political and romantic intrigue, it's clear that he's not just another pretty face.
People have taken to comparing The Hour to Mad Men, but West's Hector Madden is, despite his chiseled good looks, no Don Draper. Sure, he's always suave, but he's also sometimes hapless. West offers a nuanced performance as a man torn by conflict – between his ambition and his self-doubt, between his patrician background and his less aristocratic colleagues and, most of all, between his feelings for his wife and his passion for his producer, played by fellow Golden Globe nominee Romola Garai.
West's prestigious education – he went to Eton, the sort of bastion of privilege that many of the patrician characters of The Hour would have attended – is often referred to in profiles of the actor, but the actor's range extends to all classes, types – and accents.  He was able to poke a bit of fun at that in The Wire when his police colleagues suggested he go undercover as a tourist from another country – the result was a self-referential cocoon, with West the Briton playing an American pretending to be British:
West's performance as Jimmy McNulty in The Wire was what convinced folks at Prince Charles' trust to invite the actor to become a charity ambassador.
West did a 180-degree turn last year when he portrayed infamous real-life British serial killer Fred West (no relation) in the TV movie Appropriate Adult. The performance, which gave him nightmares, reportedly so unnerved a social worker who had known the serial killer that she had trouble meeting the actor.
"It took her back 17 years," said the movie's producer, "and to her it was the same man she met."
Are you rooting for Dominic West to win the Golden Globe? Tell us below. And follow @Anglophenia on Twitter for rip-roaring live commentary of Sunday's ceremony.
Read More
Filed Under: