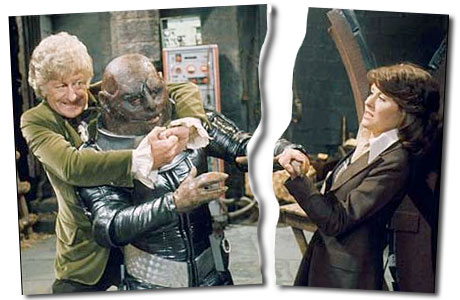 This week's roundup begins with a tale from the distant past. When the BBC auditioned actresses for the role of Sarah Jane Smith in 1973, they didn't offer the part to Elisabeth Sladen straight away. Instead they went for another actress, even getting as far as rehearsing scenes between her and the Third Doctor, played by Jon Pertwee. It didn't work out, however, and the production team eventually plumped for Elisabeth, who got everyone's approval, and the rest we know. However, in recounting the story, Elisabeth was always careful not to say the other actress's name because she felt it would be unfair. So it's been a bit of a mystery ever since.
Until now. Hidden in the text commentary of the DVD release 'The UNIT Files' – a compilation of the Doctor Who stories Invasion of the Dinosaurs and The Android Invasion – is the revelation that the actress in question was one April Walker, a blonde Sarah Jane (!), who, among her many acting credits, includes an appearance in Fawlty Towers. Here she is, facing the wrath of Basil:
http://www.youtube.com/watch?v=cb0PN6v9wRQ#t=04m45s
Apparently Jon Pertwee felt she was a bit too old and too tall for the part. Which seems unfair, but imagine a world in which someone else played Sarah Jane? It's as unthinkable as the Beatles without Ringo. (via SFX)
• Here's the latest in Doctor Who viral mashups: a cheeky re-writing of the Bonnie Tyler classic "Total Eclipse of the Heart" featuring clips from Doctor Who and brand-new lyrics that directly reference the clips as you watch them. Behold "Literal Eclipse of the Heart," the masterwork of YouTube user Zeborah:
• OK, this next thing is a little weird, and perhaps a little upsetting if you have a delicate constitution, so bear with us. At the end of a hard day recording the Who webcast adventure Death Comes to Time, the cast, including Sylvester McCoy (the Seventh Doctor), Stephen Fry, and Kevin Eldon found themselves at a loose end. As if often the case with show-offs, they began mucking about, and delightfully, no one had stopped recording. Which gives us this, a giddy improvisation, littered with extremely strong language, in which Stephen takes the role of a moaning TARDIS, and Sylvester plays an unrepentant Doctor, and they all shout over the top of each other and swear like dockers.
(Seriously, NSFW)
http://www.youtube.com/watch?v=MQDKEj9Rm6M
• Back on more civilized territory, here's a bit of Matt Smith being interviewed on Zane Lowe's show on BBC Radio 1 last Wednesday (January 4). Thanks to DoctorWhoTV.co.uk:
• Now seems an appropriate time, given that Noel Clarke has just announced he'll be in the next Star Trek movie, to have a look over his tenure as one of the Doctor's companions. So here it is, a tribute to Mickey Smith, the only companion to meet his gay alter-ego in an alternative dimension and come back a soldier.
• Over on Buzzfeed they've put up 20 inspired bits of cross-branding cartoon fan art, where the Doctor's world is lovingly portrayed through the eyes of parodies of well-known cartoonists. This Dr. Seuss one (Doctor Seuss! GEDDIT!?) is rather lovely, isn't it?
• Amy Pond cosplayers, check out this very thorough make-up tutorial on how to look like our favorite Scottish companion. She may be the girl who waited, but she never smudges:
• If you want to catch David Tennant doing his best David Attenborough impression, here he is, lending his dramatic delivery to the BBC's documentary series Earthflight, which is about birds. First, the Fish Eagle hunts flamingos:
And then these barn swallows have a drink, while flying:
• And having drifted into educational waters, let's end with a bit of culture. If you're not one of the lucky ones who jumped the pond to see David Tennant and Catherine Tate — a.k.a. No. 10 and Donna — match wits as Benedick and Beatrice in Much Ado About Nothing? DigitalTheatre.com is selling rentals and downloads of last summer's acclaimed Donmar Warehouse production. Here's a trailer. They've still got it:
Read More
Filed Under: