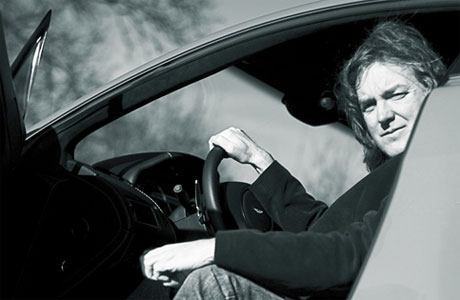 Gentle reader, I am not sure if I can get through this post without taking periodic breaks to sit on my hands and think very hard about frozen industrial waste. It's all very well raking over the fashion decisions of a Jeremy Clarkson or a Richard Hammond, these men are merely satellites of style compared to the massive planetary panache of their willowy colleague, James May, the man with the really (ahem) Top Gear.
Oh I know, on the face of it there's not much to choose between them, but the details, OH THE DETAILS…
1: Hair – there are factions of May-ites that prefer the long tresses to the crop. There are others who see the grown-out mop as being decadent and vulgar in comparison to the shorter, more elegant look. Suffice to say that if you wish people to believe that you are James May, you'll need a volume of hair, equivalent to that of a girl scout on a humid day. A little backcombing will help you achieve this, or failing that, sleep with the wig on.
2: Shirt – assuming you're not attempting to copy the May chunky turtleneck sweater (not something we would advise for first-timers), you'll need something eye catching, patterned, and a little too big. If Jeremy Clarkson's shirts look like wallpaper in a forbiddingly expensive hotel, James May's look like the curtains in the bathroom.
3: Tie – uh! No way! Ties are for THE MAN, MAN.
4: Jacket – smart but practical but casual. Nothing frock-coatish or try-hard, nothing which represents the very nowness of fashion. A sports jacket in black or tweed or corduroy, or a leather windcheater, these are the staples. However, if you can get a sheepskin-lined RAF leather jacket, and accompanying white scarf, you are ahead of the game.
5: Trousers – Jeans, stonewashed (or, if you will insist on going the turtleneck route, black), comfortable, a trifle baggy and under no circumstances, like not even if he had to meet the Queen in a Levi's shop, are they to be box fresh. A true May wears his denim like a second (quite baggy) skin.
6: Shoes – sensible, conservative shoes in dark colors and possibly suede. The kind of shoes a man would buy if he wishes to send the message that there is more to him than trendy shoes, thank you very much.
If you're thinking of accessorising, probably some kind of mini-toolkit would be a good idea. A portable tire pressure gauge (the ones that look like the early Doctor Who sonic screwdrivers) in the pen pocket of your jacket would be good.
Also, try and adopt an expression of genial, seen-it-all exasperation, as if you wish to be friends with the world, and take it for a picnic in the olden days, but it insists on bringing modernity along, in the shape of Lady Gaga riding a solar powered Segway made of iPods, Angry Birds and the Internet.
Next week: How to dress like the Stig. Yes, we really are going to do this.
Read More
Filed Under: