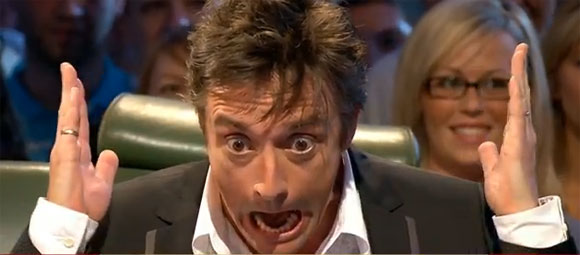 The UK Top Gear takes off for a 17th season Monday (August 22), and BBC America has begun releasing clips in promo. They've done a funny piece called "17 Reasons to Watch Season 17." It teases some of the upcoming episodes' best moments, naturally including some explosions, dune buggies, tanks crashing into houses, and Richard Hammond's "Peugeot face."
• Also, if you didn't catch it last week, check out a clip from the season premiere. Richard Hammond puts a Hummer and a Marauder (a South African armored vehicle) to the test, subjecting both to seven pounds of dynamite. One vehicle emerges from the plume of smoke and debris a bit better than the other does. Your guess which one.
• Top Gear Magazine is promoting its Stig's Supercar Showdown cover issue with a sweet video featuring the "truly epic cars" the TG crew took into war. As magazine editor-in-chief Charlie Turner writes, "This year's collective has a combined value of £3,718,090 ($6,120,719), 6,071bhp and 24 driven wheels between them. Ok, so the Veyron (the first one ever to be loaned for a performance-car showdown) skews things a bit with its 1,187bhp and £1.8m ($3m) pricetag, but, as it sits surrounded by a BMW 1-Series M, a Zonda F, and everything else in between, it's clear that we've managed to assemble one of the greatest sets of cars ever to do battle." Watch below.
• Apparently, there's a lot of important information to be gleaned from surveys about the Top Gear hosts. Last week, we highlighted a poll that found that most South African men would prefer to take a joyride with Jeremy Clarkson than with a hot supermodel. This week, another question is posed: which Top Gear host would you most likely buy a user car from?
Clarkson doesn't come out on top in this poll, taking 13.7 of the vote. James May improves significantly on Jezza's take, with 40.2 percent of respondents claiming the notorious Capt. Slow would make a brilliant used car salesman. But trumping them all is the Hamster himself, earning approval from 46.1 percent of voters. Sounds about right, doesn't it? (The Daily Telegraph)
Read More
Filed Under: