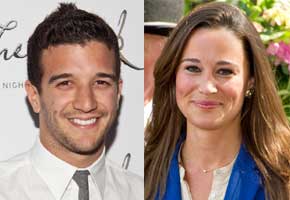 On ABC's massively popular Dancing With the Stars, we've watched Mark Ballas strut his stuff with the likes of Kim Kardashian, Bristol Palin, Shannen Doherty, and 2008 Olympic gymnast Shawn Johnson. But if the 25-year-old one-time Londoner had his pick of partners for the upcoming season, he'd much prefer to tango with Pippa Middleton.
"My first choice of celebrity dance partner next season would be Pippa Middleton," the 2009 champ told The Huffington Post. "I was a huge fan from the second the world got to see her at the wedding."
Would you like to see Pippa on Dancing With the Stars? As previously reported, it's been rumored that the world's most famous bridesmaid has been offered some serious dough to appear on Britain's Strictly Come Dancing.
In other royal-related news:
• So Prince Harry has apparently brought Florence Brudenell-Bruce by Buckingham Palace to meet the family. Well, that's what Britain's Now magazine is saying. But how come "Flee," as her friends affectionately call her, isn't soaking up the sun with Harry on the small Mediterranean island of Majorca right now? People reports that the 26-year-old ginger prince has been vacationing with a small group of pals since leaving Edinburgh, where he attended his cousin Zara Phillips' wedding, last weekend. And his new model girlfriend is noticeably absent.
• While all eyes were on Zara Phillips and Mike Tindall at Edinburgh's Canongate Kirk church last Saturday (July 30), one could not ignore the stunning headwear perched on Kate Middleton's pretty little head. The chic cream-colored hat, which complemented her Collette Dinnigan French lace dress and Day Birger et Mikkelsen jacket ever so perfectly, is the creation of British milliner Gina Foster. And the retail price of this work of art? An estimated $675 (£415). (People)
• Speaking of fashion, British department store Debenhams will soon be carrying their own replicas of Pippa's much-loved bridesmaid gown for an affordable $276 (£170), The Daily Telegraph reports. There will also be a copy of her emerald-green reception dress designed by Alice Temperley. "We have taken the best of the dresses and added our designer twist," said Russell Fish, the head of women's wear at Debenhams. "Now you can get the Middletons' look at high street prices."
• Do you think Kate is ultra cool for regularly rotating some of her design duds in public? Kelly Osbourne thinks otherwise. When visiting The Tonight Show on Wednesday (August 3), she told host Jay Leno: "Well I'm sorry but if I had that job I would only wear it once. If I am going to be the future bloody Queen of England I'm going to wear that dress once because I'm giving up the rest of my life, all of my privacy, at least I can get a new dress every day."
Read More
Filed Under: