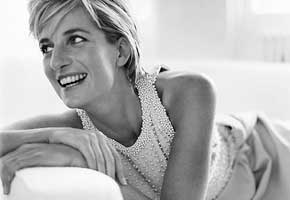 Today marks the fourteenth anniversary of the death of Princess Diana, and although the royal family is understandably keeping quiet about it, those in the Diana industry are certainly marking the occasion. On The Morton Report website, celebrity chronicler Andrew Morton once again takes up the question of whether Diana would have married her boyfriend, Dodi Fayed, who was also killed in the car crash, had they both lived. Though Morton writes that it's a "question as intriguing and contradictory as the lady herself," he comes down pretty firmly on the negative side. Despite Fayed's father's claims to the contrary, Morton doesn't think Diana was in any frame of mind to get married at the time of her death.
Regardless of whether she was planning to get remarried, Morton thinks that Diana showed tremendous personal strength in successfully emerging from inner turmoil and depression after her divorce from Prince Charles. In an excerpt of an interview to be aired tonight on a Reelz channel documentary, Diana at 50, Morton talks about how Diana re-created her life before it was cut short by the crash:
In other news related to the anniversary of Diana's death:
• "Cynics deride the deification of Britain's lost icon," writes royal watcher Christopher Wilson in the Huffington Post, "but they lose the argument both on emotional and on practical grounds." Wilson argues that each year Diana gains new "followers," new generations who "ponder her legacy." He says that "an innate goodness, a wholesomeness" is what "sets her apart from other icons of the 20th and 21st centuries" and notes, on a more quantifiable level, that her memorial fund has distributed over £100 million ($163 million).
Wilson also has some thoughts on the idea that Diana's jewelry played an inappropriate role in the recent royal marriage. "Those who winced at the parade of her engagement ring on the announcement of Prince William and Kate Middleton's nuptials," Wilson says, "have come to recognize in the prince a silent but rugged determination that his mother's name should not be shut away."
• A Liverpool memorial ceremony dedicated to those killed in road accidents in Britain also served as a remembrance of Lady Diana, who was killed in one of history's most notorious car crashes. A row of 27 empty chairs, representing the number of people who died on local roads last year, was set up on the steps of the city's Anglican cathedral, where the service was held. Families of victims laid wreaths on each of the chairs. Today (August 31) is also the anniversary of very first motor vehicle death, which occurred in Ireland in 1869, when scientist Mary Ward fell under an experimental steam car. (via ClickLiverpool)
• A Florida church is auctioning off a guided tour of Princess Diana's family home – led by Diana's brother Charles Spencer. "He will greet between two to 24 people for this one-day-only tour of the estate and grounds, where his sister, the late Princess of Wales, is buried," said Karen Leone, the member of the Ormond Beach Church of the Holy Child who arranged auction prize trip to the Althorp estate. When Leone asked the ninth Earl of Spencer for the donation, he wrote back that he'd be pleased to be the group's guide: "If this tour takes place in July or August this year or next, then the exhibition of my late sister's life would be in situ at Althorp, too, for the prizewinners to enjoy." The deadline for bids is Dec. 1. (via the Daytona Beach News-Journal)
Read More
Filed Under: