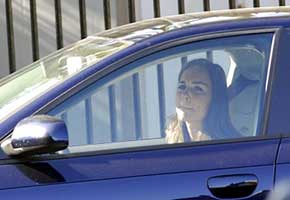 Long before her royal days of riding in horse-drawn carriages and shiny Rolls Royces, The Duchess of Cambridge relied on her dark blue Volkwagen Golf to get her around. Come tomorrow (July 15), those very wheels will hit the eBay auction block.
Current owner Sonny Brazil tells The Daily Mail that its time to sell the 2001 pint-sized car, which he bought from Kate's parents, Michael and Carole Middleton, two years ago for just $2,260 (£1,400). He has the original title bearing Kate's name, plus some stirling silver cufflinks that were left behind by mistake. Brazil was told that he could likely collect an estimated $48,000 (£30,000) in the sale.
"I went to an auction house in Dorset a few weeks ago and they said it would be worth £30,000 pounds plus, purely because of the name in the log book," Brazil said.
He continued: "I'm not quite sure who the cufflinks belong to, they might have been William's or they could have belonged to [her brother] James."
In other royal-related news:
• The Queen played host to 8,000 guests at a Buckingham Palace garden party on Wednesday (July 13). Such an event, which served up a delectable assortment of cakes, sandwiches, and teas, was organized to honor those chosen individuals for their positive contributions to society.
• Speaking of Her Majesty, more than 100 items from her and the royal family's prized Fabergé collection will be on exhibition at Buckingham Palace this summer. According to The Daily Mail, Queen Victoria began the collection the late 19th century. Some of the items that will be on display include a bejeweled Imperial Easter egg once gifted to Russia's Tsarina Alexandra by Tsar Nicholas II, and a miniature tea set formerly owned by Denmark's Queen Alexandra.
• Some Brits who were surveyed by T-Mobile would love to see Pippa Middleton's famous face adorn their £10 bill, not some old, crusty figure from the past. T-Mobile representative Patrick Coxen explained to The Sun: "Even though we use them daily, it would appear most of us pay little attention to the symbols and faces on our currency. However it seems there's definitely an appetite to get for more from a tenner, with the UK identifying Lord Sugar and Pippa Middleton as the faces they'd like to see on the reverse of a £10 note – over more traditional historical figures of old."
Read More
Filed Under: