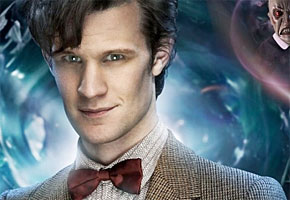 Well what a ride it has been. We've finally reached the end of our guide to Whovian cosplay, and we've learned a lot along the way. Not least of which is the word "cosplay," which some of us thought was a badly-spelled slang term for a Boggle tournament with our cousins. So, without further ado, let's do this. Matt Smith, your time has come.
The Eleventh Doctor is a frequently confused man. Much more so than his (respectively) tormented and war-torn predecessors. This confusion comes out in irrational angry outbursts, or sudden acts of kindness, or the occasional wearing of a fez. It also comes out in his choice of clothes.
He's a man who clings to certain ideas tenaciously, almost as if any challenge to his worldview could plunge him back into that chaos and confusion. He seems oddly hurt when people question his authority, and perhaps slightly bewildered. They can't be… right… can they?
So when he gets dressed in the morning, he is a man who needs to stick to the stuff he knows. He's not the dandy or the deliberate eyesore of previous incarnations, he's a sober man with a lot of energy who is unaccountably nervous. And he dresses accordingly.
1: Hair – a kind of public school side-parting which has grown out a bit. A floppy mop which can stand a bit of ruffling. If you've got it, flaunt it, if not, you'll need a wig.
2: Shirt – as you'll see from the picture above, the Eleventh Doctor wears nice shirts. Something that fits quite snugly on your beanpole frame, made of a thick cotton. A light colour but not sparkling bright and white. Something a bit subtle (like this cream shirt here), browny, bluey or reddy.
3: Tie – well we know what the Eleventh Doctor feels about ties, don't we?
4: Jacket – something tweedy, fitted and of similar length to those sports jackets everyone wore on TV in the '70s. Brown leather elbow patches optional.
5: Pants – black and tight, ending a good inch above the ankle when the knee bends. Held up with skinny suspenders. Emphasises the storkish legs, y'see.
6: Shoes – either tan loafers or black 18-hole laceup  boots (see pic). The Eleventh Doctor's shoes reflect his need for something practical and a little stuffy, as if he's a child in a man's world and doesn't want to be found out.
Then all you need is that fez, a sonic screwdriver that looks like a metal claw holding up an emerald and a distracted air and you're the man himself.
Oh and one last thing, stay off the fishfingers and custard or you won't fit into those pants.
Here's the man himself, actually there's two of him:
What did we miss? Tell us here:
Read More
Filed Under: