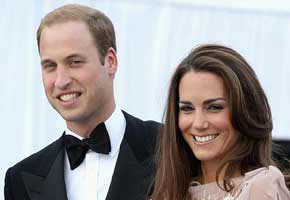 When The Duke and Duchess of Cambridge set off on their North American tour later this month, BBC News reports that a staff of seven will be traveling along to assist them.
And joining William and Kate will be the Duke's "private secretary Jamie Lowther-Pinkerton, assistant private secretary Chris Keeley, press secretary Miguel Head, and the Prince of Wales's press secretary, Patrick Harrison." The Duchess' hairdresser James Pryce, as well as her and William's personal adviser Sir David Manning will be in tow.
"The entourage is designed, whoever it is, according to requirements of the tour and we've just followed that principle really," Lowther-Pinkerton said. "In that, actually having done a pretty careful analysis, we've kept it as tight as we possibly can. But we've been minded of the fact (this is) the duchess's first tour and she needs to be properly supported so she doesn't have to worry about stuff other than core matters."
So far, William and Kate's nine-day, eight-city tour of Canada (June 30-July 8) has confirmed stops at Ottawa's Parliament Hill and the Montreal Jazz Festival. Once landing in The Golden State (July 8-10), they'll walk the red carpet at the first "BAFTA Brits to Watch" gala in Los Angeles. Wills is also slated to participate in a charity polo match at the Santa Barbara Polo Club.
In other royal-related news:
• If David Walliams's Pippa-in-drag interpretation didn't scar you for life, you must check out his next photo spoof. He's now gone after Princess Beatrice's blush-colored octopus hat and British Prime Minister David Cameron. HIL-AR-IOUS!
• When William and Kate set up their Kensington Palace digs later this summer, it sounds like they won't need a housekeeper after all. As we previously reported, the royal newlyweds were looking to hire a small staff to help them with their busy daily schedules. But apparently the Prince's private secretary Jamie Lowther-Pinkerton jumped the gun on placing such an ad in the first place.
"It was a precipitous move on my part," Lowther-Pinkerton told The Daily Telegraph. "It is the first time I have worked for a lady (in this role) so we are still working out what structures and infrastructures are needed."
He continued: "The post of housekeeper/dresser is being put on hold because we don't think there is a requirement for it, given that the couple are living a farmhouse lifestyle."
• Some never-before-seen keepsakes from The Queen's childhood are slated to go up for auction, The Daily Mail reports. A lovely sepia-colored photo capturing a teenage Princess Elizabeth and Princess Margaret in a pantomime production called "Old Mother Red Riding Boots" during Christmas 1944, plus its accompanying show program will be sold off by Reeman Dansie on June 21. Additionally, select "letters and Christmas cards" written by Her Majesty, which once belonged to a former neighbor, will also be featured.
Read More
Filed Under: