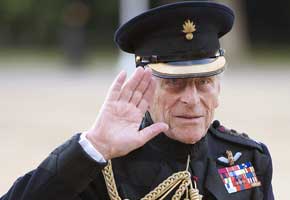 Britain's longest serving consort Prince Philip marked his 90th birthday today (June 10). And now that he's entering his tenth decade, the Prince told BBC News that it's time to cut back on some of his royal duties.
He said: "I reckon I've done my bit so I want to enjoy myself a bit now, with less responsibility, less frantic rushing about, less preparation, less trying to think of something to say."
The Honorable Artillery Company recognized The Duke of Edinburgh with a 62-gun salute at the Tower of London earlier this afternoon. The Royal Mint also got in on some of the celebration by issuing a new commemorative coin, which features both the Prince and The Queen. A special platinum version is priced at just over $8,800 (£5,450).
For more on Prince Philip, check out our photo gallery tribute here.
In other royal-related news:
• Prince Harry had royal tongues wagging last month when he and Charlize Theron were photographed having a little chat after a polo match. At a press meeting on Wednesday (June 8), the Academy Award-winning actress only had kindest of words to say about the 26-year-old prince: "He was really lovely. Super nice. I really like the work he does in Africa."
• During last night's (June 9) Absolute Return for Kids (ARK) charity dinner, style icon-in-the-making Kate Middleton was introduced to fashion's King of Cool, Tom Ford. The Daily Telegraph wonders, could the American designer be "next on the Duchess of Cambridge's shopping list?"
• Speaking of the ARK gala, just over $28 million (£17.2 million) was raised in support of the children's charity.
• When visiting Piers Morgan Tonight on Thursday (June 9), Sarah Ferguson raved about Prince William's new bride and said that Kate and Princess Diana "would have been the best of friends." Here's a look:
Read More
Filed Under: