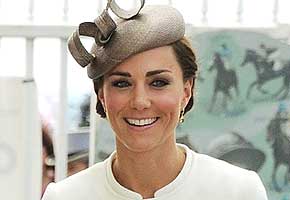 With Prince William and Duchess Catherine's upcoming tour of Canada and California just a week away, it sounds like Kate may have her hands full with organizing her 40-outfit wardrobe.
According to Grazia Daily (via The Daily Mail), Kate has apparently sought additional direction from a few fashion experts at Selfridges and Harvey Nichols in London.
"Where a personal shopper will help you to pick out outfits under your direction, a stylist will be more creative and will direct your style," Grazia printed. "[This] is interesting in terms of Kate because it's another mark of how confident she is in being able to style herself – confidence which is very well-founded, if her recent sartorial choices are anything to go by."
Between the personal shoppers and the supposed discussions of including select designer items, perhaps Kate should have hired a stylist after all? The royal newlyweds' first official trip as a married couple will see them traveling with small staff, including Kate's hairdresser, James Pryce.
In other royal-related news:
• Ottawa native Judith Yaworsky has combined her love of royalty with her fondness for food to create the online cookbook Will & Kate's Kitchen. Enthusiastic foodies from around the globe can also submit their favorite recipes for inclusion, while readers can choose from a wide range of tasty categories. "When they're not touring the world, they have to cook just like us," Yaworsky told Marketwire. "The recipes that have been submitted so far have been tested for years, and even generations, in real people's kitchens, so we are certain that they are very good."
• Strictly Come Dancing star Erin Boag says she would be totally up for bustin' a move with Prince Harry on the upcoming season of the hit BBC One show. "I'm sworn to secrecy over the next series," Boag recently told The Daily Star. "I wouldn't mind Prince Harry as my dancing partner though. I tried phoning him the other day but he must have been busy."
• Prince Charles toured the $31.9 million (£20 million) Ffos Las racecourse just outside of Carmarthenshire, Wales on Thursday (June 23). Head groundsman Arwyn Morgan told BBC News that such a visit was particularly key in expanding their visibility among other racing enthusiasts: "It's fantastic to have royalty come here and highlight to the world what a wonderful course this is. The hope is that a visit like this will put us on the map outside the world of horse racing."
Read More
Filed Under: