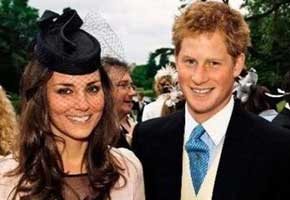 As her husband Prince William tends to his Royal Air Force responsibilities, Kate Middleton will spend some of her free time learning how to fly. Yes, you read that correctly.
The Sun reveals that Prince Harry will be the one assisting the Duchess of Cambridge with her new hobby. The 26-year-old British Army Captain is considered to be a "natural" by many of his flying instructors.
"Wills' diary is manic and to be honest, would any wife want to be taught by their husband?" a royal insider said. "Harry immediately offered and the Duchess is thrilled."
Kate, who will look to obtain a "fixed wing license," has flying in her blood. Her mother Carole is a former airline stewardess and her grandfather Peter Middleton trained British pilots during WWII.
In other royal-related news:
• Despite their best efforts to give newlywed life a go without a staff catering to their every need, William and Kate have decided that they do need some assistance. A royal source told The Daily Mirror that "William and Kate might have wanted to have a simple life and do everything themselves but it's just not possible." The couple are looking for a "housekeeper, butler, valet and dresser" to help them when they're at Kensington Palace, but they'll maintain their own household duties when living in Anglesey, North Wales.
• Former teacher Margaret Hodge, who worked with Princess Diana at the Young England School prior to her marriage to Prince Charles, will auction off a collection of "Christmas cards, Royal wedding invitations" and other personal notes penned by the late Princess of Wales. The Daily Mail reports that the never-before-seen lot will likely go for just under $33,000 (£20,000). James Grinter, a royal specialist with the Colchester auctioneer group Reeman Dansie said: "The Princess' letters give a fascinating glimpse into her life in the early years of her marriage to Prince Charles and we are expecting a lot of interest from collectors from around the world."
• Say what you want about Princess Beatrice's sense of style. The ginger-haired royal set off a worldwide fashion frenzy with that Philip Treacy fascinator (yes we're still talking about it). And since her cousin's royal wedding, the slimmed-down 22-year-old has been showing off her chic side a lot more. Between the busy floral number she wore during last weekend's Epsom Derby, and the fuchsia Roland Mouret dress seen at the Chelsea Flower Show in May, Bea has it goin' on. Her latest dressed-for-success ensemble? A black leather jacket and dress. (via The Daily Express).
Read More
Filed Under: