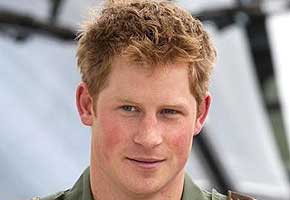 After having been withdrawn from his 10-week tour of Helmand province in Afghanistan in 2008, once some media scoundrels publicly released details of who and where he was, Prince Harry is finally set to return to active duty, just as soon as he has completed his helicopter training.
Harry, who has been desperate to get back to active service, has been spending his time back home training to fly a £40million AH-64 Apache helicopter, so that he can play a role similar to that which his uncle Prince Andrew played in the Falklands war.
Harry, who is now 26, won his wings earlier this year, and is expected to complete his training in 2012. Once that's done, he'll return to Afghanistan.
An official spokesman from Clarence House has confirmed to the Mirror that Harry is more than happy to serve in whatever capacity the army requires, saying: "Harry is an Army pilot and will deploy wherever the Army chooses to send him. His course finishes in 2012 and after that his deployment will be a matter for the Army chain of command."
The MOD, being the MOD, remained tight-lipped on the issue, saying they: "cannot comment on the deployment of individual service personnel."
However, the Mirror also quotes an Army source as saying: "Harry has been focused on wanting to show he is willing to serve his country in the most honourable way.
"When he signed up to the military he made it clear from day one he wasn't just there to make up the numbers. Ever since he was out there he's been trying to find a way to get back to Afghanistan – and this is it."
"One of his jobs last time was to call in air strikes. Now he'll be the one doing them."
Should Harry return to active service or is his presence too much of a risk, for himself and his squadron? Tell us here.
Read More
Filed Under: