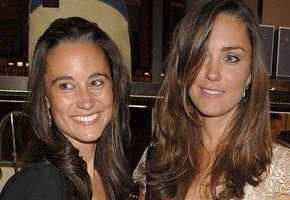 It's not an unheard of thing for female students to get involved in fashion shows, is it? It's not necessarily a sign that we're all turning to decadence and evil as a society? It's just sometimes the way people discuss the past lives of the Middleton sisters, one would be forgiven for thinking there's a common assumption that they should somehow have know they would end up with a future king in the family, and therefore carried themselves like Queen Victoria at all times.
I only say this in response to the revelation that Pippa Middleton took part in a charity fashion show when she was at Edinburgh University, strutting along the catwalk in Stella McCartney and Ted Baker outfits, looking haughty as models often do.
Yes she may have raised £22,000 for a new cancer care centre at Scotland's Western General Hospital, and yes, the pictures are available at the Daily Mail's website, but, the critics rumble, is this really the way the sister of a future duchess should act?
Well, if you believe some eye-witness accounts, becoming a future something was her plan all along.
A (possibly slightly left-out) former student told the Mail: "As soon as Pippa arrived at Edinburgh, she was assiduous about joining the right social circle, She was very charming about it, but quite ruthless in cultivating the right friends."
"In this fashion show Pippa was among a tight-knit Sloaney set who would hang out with Prince Will when he was over from St Andrews University [where Kate studied]. They were very 'country,' and would go off shooting at each other's estates at the weekend."
One of the other girls was a little nicer about their former college-mate: "Pippa was a very pretty girl with a phenomenally trim, sporty figure. She looked great – and she knew it."
One person who may never agree with this assessment is the French writer Patrick Besson. He wrote a scathing essay for Le Point, entitled 'Pippa Is Ugly', in which he criticises Pippa's social climbing, urges her boyfriend to leave her, and perhaps worst of all describes her bottom as "bony."
He said: "The whole package is crowned by a flat smile, vulgar, empty, inert, insincere, greedy, cold, shameful, stupid, uninterested, immature … that signifies nothing, and engages no one."
I know, a LOT of adjectives there. And he went on to surmise that the only reason the British were interested in the wedding was as an excuse to sit around drinking and breaking wind.
Yeah, as if we need an EXCUSE…
Read More
Filed Under: