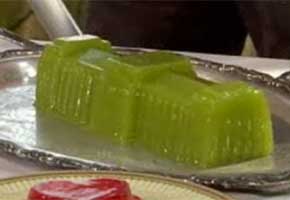 If you're one of the many royal wedding fans ringing in Prince William and Kate Middleton's April 29 nuptials, I'm sure you have your British-themed menu and accompanying party favors all ready to go. But consider this: a Buckingham Palace jelly mold.
Harry Parr and Sam Bompas are the authors behind Jellymongers: Glow-in-the-Dark Jelly, Titanic Jelly, Flaming Jelly, which offers an entertaining twist on everything you need to know about gelatin (a.k.a. Jell-O in America). Plenty of recipes (Henry VIII's jelly hippocras is in there) and various molding techniques are also included.
Earlier today (April 25), The Today Show's Meredith Vieira chatted with Bompas about the book and some of his very special jelly molds, including one of Buckingham Palace. And why didn't Bompas and Parr take on Westminster Abbey? "We think the towers would have been a disaster," Bompas said. Do you think you're ready for this jelly?
Visit msnbc.com for breaking news, world news, and news about the economy
Read More
Filed Under: