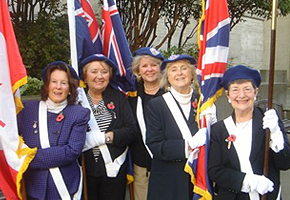 Vicki Downey, president of the Daughters of the British Empire in the U.S., cannot wait to see Prince William and his bride kiss on the balcony of Buckingham Palace. "It's going to be one heck of a day," she predicts happily.
And who are the Daughters of the British Empire exactly? If you're a woman from any of the countries in the British Commonwealth, you can join this 102-year-old philanthropic organization of patriotic ladies who like to fundraise and have fun. While wearing hats. And what better occasion than the royal wedding to do all three.
Vicki's 4,000 members in the U.S. are preparing their outfits for April 29 — frocks, hats, and fascinators will be the order of the day. Fascinators are the decorative headbands sported by Kate Middleton and other young royals. Daughters of the British Empire in Louisiana and Oregon are hard at work making wedding-themed fascinators that will be raffled off for charity. In Washington State, the Daughters will be holding a bridal shower.
As a royalist, Vicki looks to the monarchy to provide the linchpin of British society. After a difficult period of high profile royal divorces and the death of Diana, Princess of Wales, here is an event which the Daughters of the British Empire can celebrate wholeheartedly. "After a rotten few years in which some dreadful things happened," says Vicki, "the wedding's bringing back a sense of patriotism, camaraderie, and pride not only for us further afield but for my 20-year-old nephew in the UK. It's great to see how the royal family is embracing modern times. After all the rumors about who Prince Charles could and couldn't marry, William's in love with this young lady, who may not have been born of royal blood, and it's wonderful to see the royal family being so supportive. "
Vicki and her fellow Daughters are taking a particular interest in what Kate will be wearing. "It's turning into a bit of a competition, as to who guesses the right design and designer," explains Vicki. "One of my old dears said, 'There was so much material left over from Diana's dress. Couldn't they have done something with that?'" Vicki is betting on a more traditional, fairytale princess look while other Daughters predict Kate will choose a modern, edgy design.
The Daughters support four nursing homes in the U.S. that were originally for retired nannies and butlers with nowhere else to go. Now the homes are not so much for expats: they welcome Americans who have fallen on hard times. But tea is still served on real china in the Daughters-supported retirement homes, and pictures of the Queen feature prominently.
Vicki is impressed by Prince William and Kate's commitment to charitable work. "They're bringing the 'philanthropic' word back into fashion," notes this hard-working Daughter of the British Empire approvingly, before returning to her royal wedding day fundraising.
Read More
Filed Under: