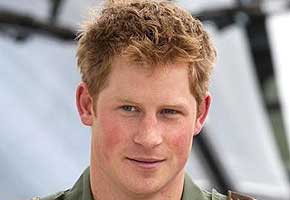 Third in line to the throne, Prince Harry has been known as the wild child of the royal family. BBC royal correspondent Peter Hunt looks at what may be next for him after his older brother, Prince William, marries Kate Middleton. (Follow Mr. Hunt on Twitter.)
"Have you ever woken up at night," I once asked Prince Harry, "and thought, 'If William abdicates, I could be King'?"
"It is a bit of a worry," the third-in-line to the throne replied laughing, "He assures me he's not going to do that."
With Prince William as the heir who's not budging, Prince Harry's the spare for a lifetime. It's a stark disparity that hasn't affected their relationship. They're close. They get on. Not something you can say about all royal siblings. They suffered the very public death of their mother, Princess Diana. One of the haunting images of that week in September 1997 is of a 12-year-old Harry walking behind the coffin. The card on the flowers bore the word, "Mummy."
There is a strong bond between these brothers who shared this traumatic experience. Talking about William, Harry once said, "He is the one person on this Earth I can talk to about anything. We understand each other. We give each other support."
But it's a relationship which started to change the moment William proposed to Kate. To borrow and re-phrase a famous and damning remark of Diana's, "Three people in a royal household will be a bit crowded." Post-wedding, it'll be difficult for the same advisors to juggle the competing demands of two princes and a new royal on the scene. Somehow, at some stage, Prince Harry will have to be set up on his own.
It's a development that is unlikely to trouble the 26-year-old in the slightest. His focus is on his military flying. He is training to pilot Apache helicopters. The fact he has progressed this far has surprised both himself and those around him. They say he is an intuitively good pilot of an attack aircraft that Harry has described as an "awesome helicopter."
As part of his training, the prince will travel to America. (The last time he was in the U.S., he threw the first pitch to start a New York baseball game). If he passes the course, military commanders will once again have the headache of whether or not to send Harry to Afghanistan.
He spent ten weeks there in 2008 but had to come home after it leaked out he was on the ground near the border with Pakistan.  This time, the British media are unlikely to agree to stay silent about his presence, as they did three years ago. "I would love to go back," Prince Harry told ABC's Good Morning America. "I really would. At the end of the day you train for war. It's as simple as that".
Harry, like the rest of us, is not a one-dimensional character. He's the soldier prince, the caring prince — he's set up a charity in the southern African kingdom of Lesotho in honor of Diana — and the party prince.  It's this royal manifestation which attracts the most attention, most memorably when he had to apologize after wearing a Nazi uniform at a fancy dress party.
In the coming weeks, he has a stag party to plan, as William's best man, and a wedding ring to look after. Once his brother has got hitched, attention will inevitably switch to Harry's marital intentions. There's his on-off and potentially back on girlfriend, Chelsy Davy. The last time they were together in public they hid in the trunk of a car to avoid detection.
As and when he does marry, Prince Harry's wedding will generate interest, but it won't have the same significance as William's, given his position lower down the pecking order of succession.
Harry's a sensitive young man, with a sense of fun who is at ease with people. He'd be the first person to acknowledge that his time in the military has helped him to "grow up." The prince believes he can be a young senior royal who has a good time and leads a worthwhile life. As he put it himself, "I am who I am and I'm not going to change."
Read More
Filed Under: