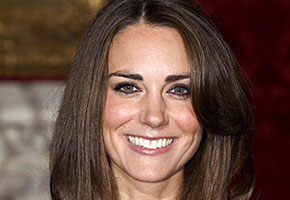 In our second Q&A (read the first) with our royal expert Laura Trevelyan, we tackle the confusing issue of royal titles. There's the lingering question of what Prince William's wife-to-be, Kate Middleton, will be called: will she inherit Diana's title, the Princess of Wales?
And if Kate will become Queen when William is King, why didn't Prince Philip become a King once Queen Elizabeth II took the throne? Oy.
Totally bewildered yet? Laura is here to untangle all of this:
BBCA: What might Kate Middleton be called once she marries William?
LT: As things stand, she will become Her Royal Highness Princess William of Wales when she gets married because William doesn't have a territorial title. He is a royal prince. However, if as expected, the Queen confers an Earldom or a Dukedom on William, either before or after his marriage, then she will be Catherine, Countess of X if William is given an Earldom, or Catherine, Duchess of X if William is given a Dukedom. In the grand scheme of things, a Duke is senior to an Earl so William could well become a Duke as he is in direct line to the throne.
BBCA: Is keeping her maiden name or hyphenating it an option?
LT: No, she's marrying into royalty!
BBCA: What might William's title be?
LT: This is a subject which is generating much interest in the House of Commons, where Britain's lawmakers are asking if their region might be the one chosen for William's title! The MP for Monmouth, David Davies, pointed out that the Dukedom of Monmouth has been vacant since 1685, for reasons best glossed over, as he put it (the first Duke was executed for trying to depose the King!).
So that gives you a clue – William must be given a title of the realm that no one else currently has. York and Kent are taken by other royals, so are Cornwall and Gloucester. The Dukedoms of Clarence, Cambridge, and Albany have been used in the past. Windsor and Cumberland are vacant – but both carry unfortunate historical connotations. The Duke of Windsor was the title given to Edward VIII after he abdicated and married the American divorcée Wallis Simpson. And the Duke of Cumberland suppressed the Jacobite rebellion of 1745, so that wouldn't go down too well in Scotland, where many Scots died.
Whichever title is chosen, expect an enterprising pub owner to name his establishment "The Duke of Wherever" pretty sharpish.
BBCA: Who decides which titles are available?
LT: The Queen is likely to have the final say on this, though she will receive advice from the Privy Council on which titles are vacant. I knew you'd ask what the Privy Council was! It goes back to the earliest days of the Monarchy, when it was made up of those appointed by the King or Queen to advise on matters of state. Today, Ministers are members of the Privy Council, and they advise on "the exercise of prerogative powers and certain functions assigned to the Queen and the Council by Acts of Parliament."
BBCA: Why is Camilla not the Princess of Wales?
LT: Charles is the Prince of Wales and also the Duke of Cornwall. As Diana had been the Princess of Wales, Camilla couldn't very well have that title once she married Charles, so she became the Duchess of Cornwall.
BBCA: Why isn't Prince Philip a King?
LT: Monarchy follows its own historical precedents and rules, and the husband of a female monarch doesn't seem to have a recognized title. Queen Victoria's husband was Prince Albert. Prince Philip was born Prince of Greece and Denmark and became the Duke of Edinburgh when he married the Queen. However, the wife of a male Monarch does become Queen – as George VI's wife did, therefore Kate would presumably become Queen Catherine should William become King.
BBCA: Does the Queen have a surname?
LT: The Queen does not normally use a surname, though she confirmed the Royal family name of Windsor in 1952.
George V belonged to the House of Saxe-Coburg-Gotha, which was the family name of Queen Victoria's husband Prince Albert. Following anti-German sentiment during the First World War, in 1917, George V adopted Windsor (after the castle) not only as the name of the dynasty but as the surname of the family.
Then in 1960 the Queen and the Duke of Edinburgh decided they would like their direct descendants to be distinguished from the rest of the Royal Family by having the surname Mountbatten-Windsor, which reflected Prince Philip's surname.
BBCAmerica.com's royal expert Laura Trevelyan is here to answer your most pressing questions about William and Kate's wedding. Tweet us at @bbcroyalwedding or post at the BBC America's Royal Wedding Facebook page to submit your inquiries.
CLARIFICATION: An earlier version of the post said that Kate Middleton would likely be called "Her Royal Highness Princess Catherine." Her actual title would likely be "Her Royal Highness Princess William of Wales."
Also, if William is conferred an Earldom or Dukedom, the correct order of Kate's title will likely be "Catherine, Countess of X" and "Catherine, Duchess of X," not "Countess Catherine" or "Duchess Catherine."

Read More
Filed Under: