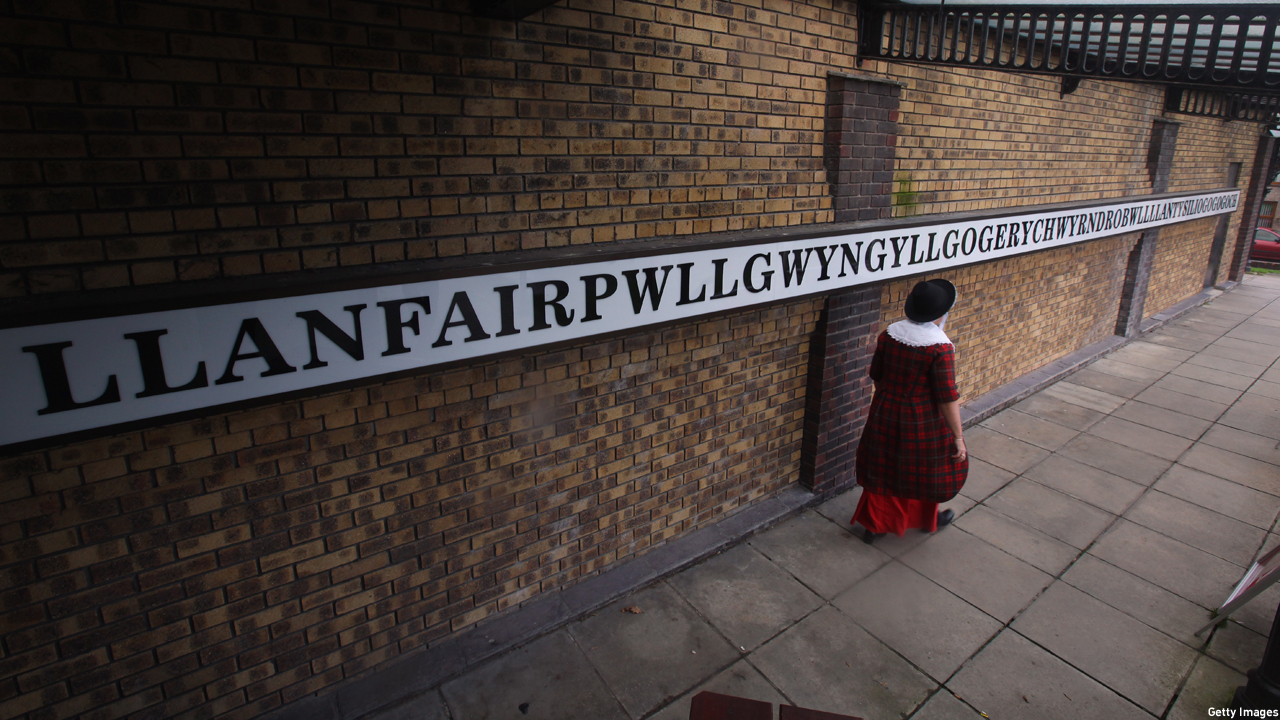 The following video clip has been enjoying viral status over the last day or so, because it addresses a situation some people may find intimidating, with grace, wit and most importantly, aptitude.
Llanfairpwllgwyngyll is a village on the island of Anglesey off the north-western corner of Wales. It's not a big place, only the sixth largest community on the island with around 3,000 people living there, but it does boast the biggest full name in the British isles, and the second largest place name (that is a single word) in the world.
The full name is Llanfair­pwllgwyngyll­gogery­chwyrn­drobwll­llan­tysilio­gogo­goch, which was created—largely for promotional reasons, so its railway station would have the longest sign in the country—in the mid 1800s. It means "The church of St. Mary in the hollow of white hazel trees near the rapid whirlpool by St. Tysilio's of the red cave," which is less a name and more a detailed set of directions.
For ease of use, the full title is often shortened to Llanfairpwll or Llanfair, and most commonly referred to as Llanfairpwllgwyngyll, because who has the time for a mouthful like that?
Well, Channel 4's Welsh weather presenter Liam Dutton made the time in a recent forecast. Noting that it was unseasonably hot in the area, he elected to deliver the entire name without so much as a pause for breath.
Not that he wasn't nervous beforehand:
I'm about to say Llanfair­pwllgwyngyll­gogery­chwyrn­drobwll­llan­tysilio­gogo­goch on the TV – @Channel4 at 7.55pm. pic.twitter.com/ReE73lN6Ul

— Liam Dutton (@liamdutton) September 8, 2015
Here's the clip:
Incidentally, you may like to know that the longest single word place name is New Zealand's Tetaumatawhakatangihangakoauaotamateaurehaeaturipukapihimaunga—horonukupokaiwhenuaakitanarahu. Also, someone has actually registered the domain name www.llanfairpwllgwyngyllgogerychwyrndrobwllllantysiliogogogoch.com, which has to be a record of some sort, because the upper limit on domain URLs is 67 characters, and Tetaumatawhakatangihangakoauaotamateaurehaeaturipukapihimaunga—horonukupokaiwhenuaakitanarahu has 92 for the name alone.
And should you need help with any more pronunciations, take a look at this:
See more:
How To Pronounce Deliberately Off-putting British Place Names
Why Do Some Brits Have Multiple Middle Names?
How Many Names do Brits Have for Woodlice?
From "Monkey Hangers" to "Spireites": Affectionate Nicknames for British Townspeople
Read More
Filed Under: