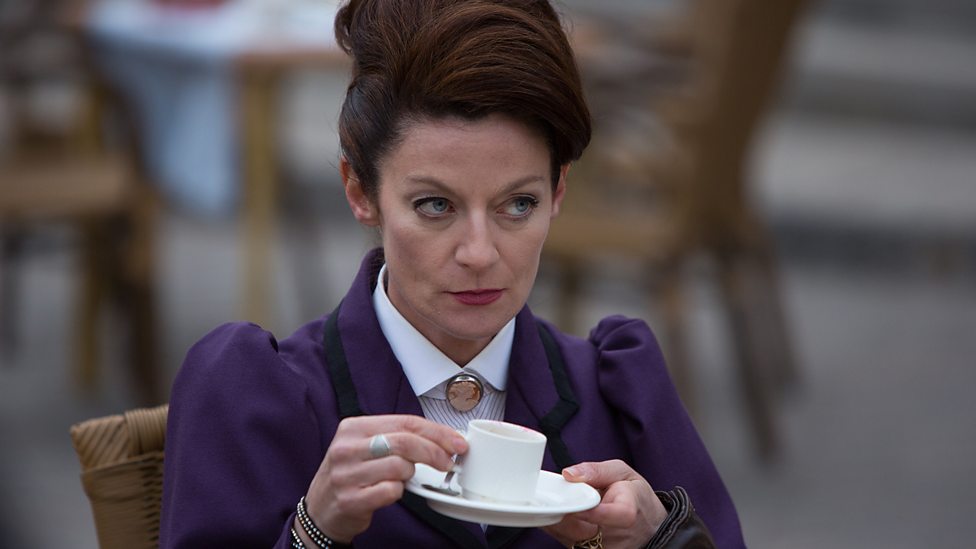 Welcome to this week's Doctor Who's Day roundup, an interdimensional net dragged through the internet to snag various Whovian items, bring them back and pin and mount them for future generations to enjoy.
And of course, it's only a few days until the arrival of the first episode of Season 9 — "The Magician's Apprentice" — on Saturday (September 19), which means there is a ton of stuff out there to get a hold of, from official videos to fan tributes to interviews to wallpaper. So, make yourself a cuppa, here's what we know so far:
• All the episode titles:
BREAKING NEWS! Here are the titles for every episode in the new series! And there's more info@ http://t.co/LnMcOAUmhU pic.twitter.com/JYW1QEl0ox

— Doctor Who Official (@bbcdoctorwho) September 14, 2015
• And Steven Moffat's own guide to each episode, which may be slightly spoilery, so be warned.
• Then there's the prologue for "The Magician's Apprentice," in which the Doctor makes a return trip to Karn, scene of his eighth regeneration (in "Night of the Doctor"):
• And every good Doctor Who prologue needs a Doctor Who Extra:
Doctor Who Extra: PrologueWe go behind the scenes of the Prologue for Series 9 with the phenomenal Clare Higgins who plays Ohila the High Priestess of the Sisterhood of Karn. In case you missed it, watch the Prologue here >> http://bbc.in/1OG3srp

Posted by Doctor Who on Monday, September 14, 2015
• Here's a brief summary of what to expect of Season 9 as a whole:
• And an assessment of the Doctor's current worth as a heroic figure:
• There will be more time (and space) for stories this time around:
• Peter Capaldi: "You don't just play Doctor Who, you represent him."
• According to this BAFTA Q&A, Peter Capaldi had a LOT of fun researching the kind of electric guitar that the Doctor would play:
• It looks like this, by the way (from a new gallery):
• And Peter Capaldi would like a guest appearance for David Bowie:
• Speaking of glamorous rock stars, these would make two sides of a great album cover:
• Peter Capaldi on Jenna Coleman: "It might not have worked with anyone else"
• U.S. Whovians: you can watch Doctor Who in 3D in select cinemas nationwide today (September 15) and tomorrow night (September 16). See "Dark Water" and "Death in Heaven" with an exclusive Season 9 prequel. You can purchase tickets here.
• We'll have to wait until Christmas to find out who these two are:
• Doctor Who hits the cover of the Radio Times:
OK, doesn't mean much coming from us, but new #DoctorWho @RadioTimes cover is stunning right? http://t.co/JtqEwQi2bJ pic.twitter.com/v2KiO8Bua9

— Radio Times (@RadioTimes) September 14, 2015
• Peter Capaldi: "I was a geek before the word was invented."
• You can take the girl out of Doctor Who, eh Karen Gillan?
Just saw this on day 2 of shooting The Circle and got very confused. pic.twitter.com/RGiqETnKA2

— Karen Gillan (@karengillan) September 14, 2015
• This is insanely cute. Kids ask the Doctor questions (courtesy of BBC AMERICA):
• Strax is getting a Doctor Who audio spinoff.
• Anyone feeling peckish?
• 10 reasons why Clara has the BEST life.
• BBC AMERICA's series of classic Who episodes, The Doctor's Finest, takes a look at "The Time of the Doctor."
Here are 10 things you may not know about the Eleventh Doctor's final hurrah.
• Steven Moffat takes a Buzzfeed quiz to find out which companion he would be.
• The Second Doctor conjures up a butterfly companion:
• Doctor Who: The Fan Show makes a TARDIS cake:
• And finally, before you watch this clip, maybe fetch a snack and get comfortable, because here is Karen Gillan and Jenna Coleman's entire panel from Fan Expo 2015, including some singing, embarrassing moments from both of their respective Doctors, but no spoilers:
And if you've got a taste for this sort of thing (and LOTS of snacks), why not check out Jenna's solo panel too?
TTFN!
Read More
Filed Under: