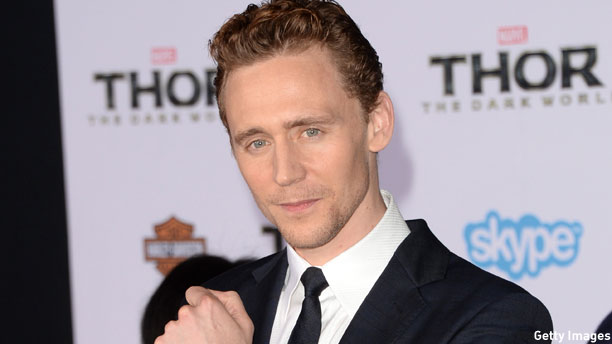 British actors have a particularly strong relationship with the works of Shakespeare, as they'll have studied his plays when honing their stagecraft and possibly discovered some of their best thespian tricks while working out how to tackle Polonius or Caliban at a tender age.
So, as it's Shakespeare Day and we love actors who love reading Shakespeare, here they are doing that very thing, starting with Tom Hiddleston reading the "if music be the food of love" speech from Twelfth Night:
And now, Dame Helen Mirren reading from Anthony & Cleopatra, in a special clip for BBC Newsnight. She has played the title role on stage three times, at the National Youth Theatre in 1965, for the Royal Shakespeare Company in 1983, and at the National Theatre in 1998:
Or, for people with short attention spans, here's David Tennant reading a collection of Shakespeare's greatest hits in verse, performing "Sonnet 2," "Sonnet 7," "Sonnet 9," "Sonnet 17," "Sonnet 18," "Sonnet 11," "Sonnet 14" and "Sonnet 154:"
Should this prove to be too much in one blast, how about Daniel Radcliffe reading the immortal "Sonnet 130," the one that starts "My mistress' eyes are nothing like the sun"?
Emma Thompson's reading of Balthazar's song from Much Ado About Nothing niftily skips around that thing where actors have to make up a melody on the spot, or worse, actually sing (if that is not within their skillset) by simply intoning the words, in deep and suggestive tones:
Some of the finest examples of dramatic (and poetic) logic reside in Shakespeare's soliloquies. And there's even room for some theatrical criticism. Here's Chiwetel Ejiofor offering advice for bad actors (pun intended) from Hamlet:
Sir Thomas More is a play that has sat outside of the canon of popular Shakespeare works for over 300 years, largely for political reasons (as Ian McKellen explains at the beginning of this clip). And yet it lacks nothing in the areas of pacing and flow, or persuasive reason normally associated with the Bard:
Continuing the theatrical metaphors from earlier, here's Benedict Cumberbatch reading "The Seven Ages of Man" speech from As You Like It, which contains some wonderful descriptive moments, ripe for reuse, including "mewling and puking" and "the lean and slippered pantaloon":
Taking a step out of the philosophical frame of mind, here's a blistering Ralph Fiennes reading "Sonnet 129" as if bitter at being forced to carry an unbearably heavy burden:
And while we're in the realm of dark thoughts, here's Judi Dench from 1979, delivering Lady Macbeth's soliloquy, the one that mentions the milk of human kindness:
Poor Matthew Macfadyen is feeling a bit down in the dumps because he's not a success in his chosen field. This bothers him enough to start reciting the apposite "Sonnet 29" in a cafe, until, just at the point at which the poet reminds him of his true love, she appears. Then everything is right as rain:
And, in a spirit of finale, triumph and general ado. Here's Sir Kenneth Branagh giving one of the most famous speeches from Henry V the full meaty wallop, to an appreciative audience:
See more:
Poetry Day: 10 British Actors Read 10 British Poems
13 Definitive Portrayals of British Monarchs in Film and TV
In Celebration of Dylan Thomas
LISTEN: Hugh Bonneville Reads a Letter from Paddington
Read More
Filed Under: