What better way to boost your mood than to scroll through a gallery of British bulldogs. Today marks Bulldogs Are Beautiful Day (April 21), and while they can do no wrong in our eyes, the British beauties can get in moods too. Like us, Bulldogs have a whole range of emotions including grumpy, playful, shy, and even the mood to don fancy dress:
1. Well, you know what, we'd be bummed too if our favorite toy broke:
He's being so sassy today… In a mood because he popped his ball #BritishBulldog #NotHappy pic.twitter.com/3zUtjrgCtA

— Victoria Cunliffe (@VCunliffe) April 1, 2015
2. This bullie is feeling much friendlier: 
Shuggie making friends with @the.super.chums Angel the #mastiff! #sniffsniff pic.twitter.com/QAB9cewyfV — London Bulldogs (@thebumblers) April 6, 2015
3. Who doesn't want an ice pop when peckish? 
recipes — My dad gave our 2 month old English bulldog puppy… http://t.co/pKsQ0Z75we

— vaquinha animal (@vqnanimal) April 9, 2015
4. This nature lover is in the mood for some fresh air: 
My sweet baby #englishbulldog #Bulldogs @englishbulldog @EnglishBulldog_ pic.twitter.com/2PsSWM9emK — Maddy (@maddyschatzle) April 12, 2015
5. This guy's in the mood for a kip: 
Lazy piglet #bulldog#britishbulldog#englishbulldog#pig#dog#sydney#cute#sleepy#puppy pic.twitter.com/6Cos66ENUD — Piggy (@PigsTrough) April 10, 2015
6. #WillietheBulldog fancies a kiss:
7. Oliver is giving us coy:
Good boy! RT @Sam_Rogian: Better late than never. Oliver w/ his #TurkeyLegTuesday entry. @ButlerBlue3 #englishbulldog pic.twitter.com/9tphtEQRc1 — Butler Blue III (@ButlerBlue3) April 7, 2015
8. Where does the bed sheet end and this bullie begin? He's feeling playful. 
Happy Sunday! #marmot @BaggyBulldogs #bullylife #englishbulldog #englishbulldoglove pic.twitter.com/yNc1V33Lmj

— Sir Angus B. (@SirPawbulous) April 12, 2015
9. Gertrude is wearing her favorite hat out, no matter what anyone says: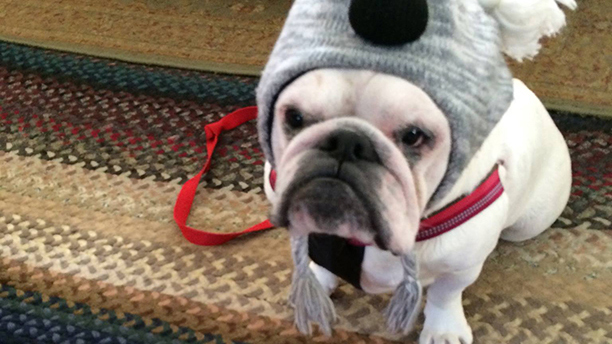 10. This guy's in the mood for a staring contest—we need to know: who won?
"I think #doggymama is trying to introduce me to new people…" -Pops #bulldog #englishbulldog #britishbulldog pic.twitter.com/t3nhQoRPYC — London Bulldogs (@thebumblers) April 19, 2015
It's okay, it's your day, you can be in whatever beaut of a mood you like!
See More:
WATCH: British Animals You Won't Find in America
British Man Sets Up Squirrel Obstacle Course in Back Garden
A British Animal Sanctuary Discovers All 100 Female Guinea Pigs Impregnated
Read More
Filed Under: