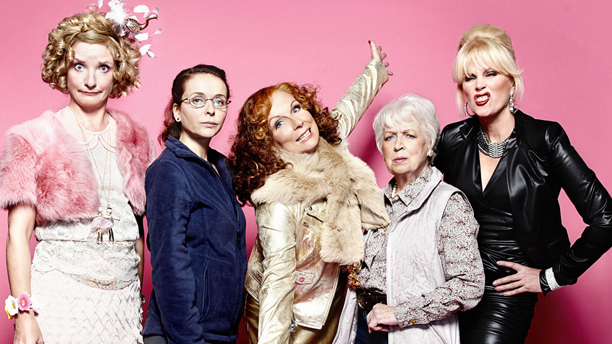 Absolutely Fabulous, created by comedy team Jennifer Saunders and Dawn French, hit British airwaves in 1992 like a much-needed slap in the face after a late night out. Lucky for us, Comedy Central picked up the series, introducing American audiences to the ridiculously over-the-top best friends Eddy (Saunders) and Patsy (Joanna Lumley), and their notoriously inappropriate ways in 1994.
AbFab made a welcomed return to both British and American television in 2012, celebrating its 20th anniversary with three specials, airing on BBC and BBC America. There's talk of an AbFab movie happening this year, which would be AH-mazing, but what has the cast been up to lately? Let's take a peek:
Jennifer Saunders (Edina Monsoon)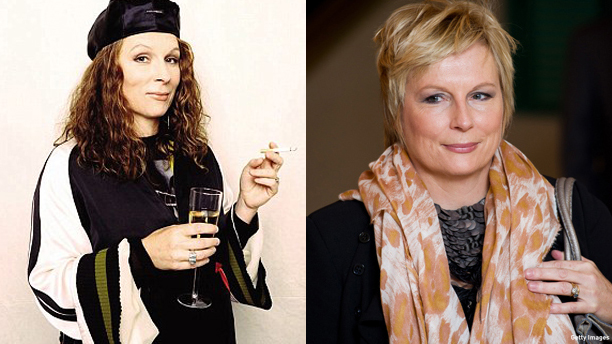 Edina Monsoon, formally named Edwina, is a PR maven who is surprisingly successful in her career, despite her fondness for booze, pills, and everything else in between. She's twice divorced, and has a daughter with her ex-husband Justin (Christopher Malcolm).
Saunders published an autobiography in 2013, entitled Bonkers: My Life in Laughs, and when making the media rounds she mentioned thoughts of an AbFab movie. In addition to her literary success, the funny lady has been keeping busy starring in two TV series Blandings and This is Jinsy. If you're a fan of the Despicable Me series, you can listen for Saunders in the forthcoming Minions spin-off, in which she will be providing the voice for Queen Elizabeth II.
Joanna Lumley (Patsy Stone)

Patsy Stone is Eddy's right-hand-gal. The two are attached at the hip, and that's how Patsy likes it. She's irrationally jealous of Eddy's daughter Saffy (Julia Sawalha), and isn't shy to show her disdain. Let's just say the feelings are mutual. She heads a fashion magazine, a position she got the old-fashioned way, sleeping with the boss.
Lumley, former Bond girl, is credited with motivating Saunders to write the AbFab movie, reports RadioTimes. In addition to being a muse, you may have spotted Lumley starring opposite Leonardo DiCaprio in The Wolf of Wall Street. She played his British auntie by marriage. DiCaprio's character is strung out and paranoid after a drug binge, and thinks his wife's aunt is hitting on him. Lumley and Saunders teamed up to compete in the Great Comic Relief Bake Off, which aired just last week. She's set to star in the 2015 film Absolutely Anything, but please don't be confused; this is about aliens granting a human the ability to do absolutely anything, not the AbFab movie we're waiting on. She's already completed filming for the 2016 film The Man You're Not, in which she plays herself.
Julia Sawalha (Saffron Monsoon)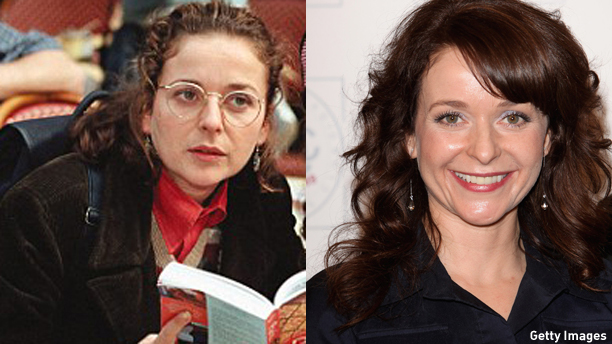 Saffron Monsoon, also known as Saffy, is her mother Edina's pride and joy. The only thing is, they're absolute opposites. Saffy takes on the mother role, while Eddy and Patsy run around town causing chaos. Saffy's mum wants her to go out and experiment, cause some trouble of her own, maybe meet a boy, but the teenager is having none of it.
Sawalha is now grown up, and recently took on the role of a mother of a teenage daughter in BBC's three-part series Remember Me in 2014. Sawalha told the U.K. Express, "It's quite an odd feeling not to be somebody's daughter for a change." Prior to the miniseries, Sawalha made a guest appearance in Agatha Christie's Marple in 2013.
June Whitfield (Eddy's Mother)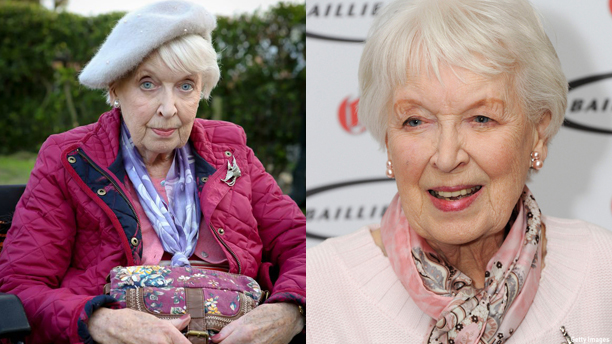 Eddy and her mother's relationship is strained, but she takes her grandmum duties seriously, doting on her grandchild Saffy. Edina is constantly teasing her mother, making snide remarks, but Gran takes it in stride. She ignores her daughter's taunts, and gets some zingers of her own in there.
Whitfield has been a working actress since 1953, and just last year starred in the TV series Midsomer Murders, Jonathan Creek, Topsy and Tim and three episodes of Boomers. She's set to star in the 2015 TV movie Cider with Rosie. In other words, at 89, she's not showing any signing of slowing down.
Jane Horrocks (Bubble & Katy Grin)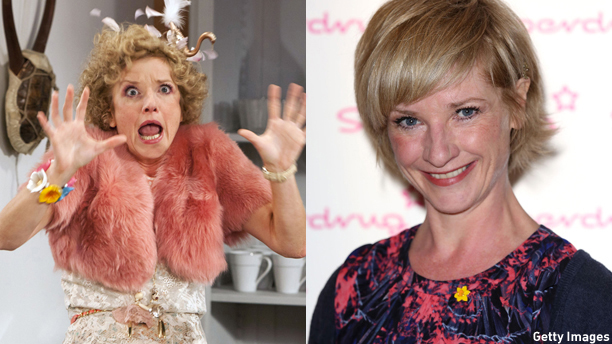 Bubble supports Eddy in her daily work life. Bubble's main job description is to keep Eddy's confidence up. She gets the job done, for the most part, but her zest for life sometimes rubs Eddy the wrong way. Bubble works in fashion, but her zany outfits can be questionable. But that could be said about her boss too. Katy Grin is Bubble's cousin (both played by Horrocks), who is a TV presenter.
Horrocks has a distinct voice and accent, which makes her a great find for animated work. You may have recognized her voice in 2014's The Pirate Fairy as Mary Fairy, also featuring Tom Hiddleston's voice as the young pirate. She starred in the 2013 TV series Trollied as Julie. She most recently appeared in The Playhouse Presents' episode "The Cruise."
For a bit of fun, let's take a look at Saunders and Lumley back then:
And, now:
How happy will you be if the AbFab movie does happen?

See More:
Watch: More 'AbFab' on the Way?
Jennifer Saunders: 'The AbFab Movie IS Happening'
Dress Like the Ladies of 'Absolutely Fabulous'
Read More
Filed Under: