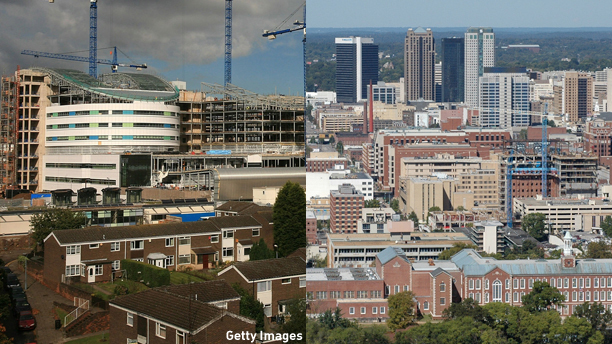 If you scan a map of the U.S., you will quickly notice some familiar British city names. When we say "some," we're underestimating, because it's more like 650 American cities that share the same name as those found in England.
One theory on how this came about was that when English immigrants moved to the new world and settled in America, they were homesick, and named their new digs after their former home. Another theory is that new tenants wanted their family and friends back home to know where to find them and, more importantly, to send them money. Of course, a bit of flattery didn't seem to hurt, and a settler may choose a name to honor someone back home, like, "We claim this land, let's call it New York, after the Duke of York," in not so many words and a royal accent.
Are these cities doppelgängers, or do the similarities stop at the name? Let's take a peek:
1. Birmingham, AL
Birmingham, AL, was founded in 1871, named after the industrial city in England. The "h" in the English city is silent, pronounced more like, "Birming-im." Both Birminghams got their start as industrial powerhouses, specializing in metal production. In recent years, the British Birmingham has veered off into retail and service-tourism industries, and the U.S. city has shifted its focus to health care. Even the cities themselves get a little confused sharing the same name, with Birmingham, England, mistakenly distributing 720,000 tourism brochures featuring the American cityscape. In true British spirit, the Birmingham Council shook off the error, and the American city got a little pat on the back from its namesake.
2. Boston, MA
Visitors to Boston, MA, typically report back that the New England city feels like a Little Britain. It's not too surprising with Massachusetts being one of the original 13 colonies, and Boston being a main port for the English settlers, which is still an active maritime spot. Boston, England, located in Lincolnshire, on the East Coast of England, still relies on its waterway access as an economic resource. Residents in both the American and British city are referred to as Bostonians.
3. London, OH
You may meet someone who says, "I'm from London," but confusingly doesn't have an English accent. That may be because they're referring to London, OH, established in 1811. The U.S.  city, 25 miles outside of Columbus, has approximately 10,000 residents, and is the largest community in the U.S. named after the U.K. capital city. There are four other states with cities named London including: Kentucky, Arkansas, Texas, and West Virginia. You can find New London in Connecticut, Wisconsin, New Hampshire, North Carolina and Minnesota. You don't have to get on a plane to visit "London."
4. Manchester, NH
People rave about Manchester, England's sports teams, and music scene, but we were pulled in by the striking architecture. There are actually 20 American cities named Manchester, with Manchester, NH being the largest city in New Hampshire, and the 10th largest in New England. Manchester, NH, was given its name with hopes of the young city following in its namesakes' steps. Samuel Blodget, who named the city, was so impressed by Manchester, England, the first industrialized city, that he imagined a similar city center in New England.
5. Portland, ME
Portland, ME, was originally named Falmouth Neck, also after the English city Falmouth, but was re-named after the Isle of Portland in the English Channel. The English settlers set up camp in the American city using the waterfront location as a trading and fishing settlement. the fishing industry is still going strong in the American city. The Isle of Portland not only lent its name to the new city, but Portland Cement, which is found in most concrete, pulled its name from the English namesake. The Isle of Portland is a source of limestone, which is used worldwide in construction. On a side note: Portland, OR, was almost named Boston, OR. The decision, made between the founders Asa Lovejoy, who was from Boston, MA, and Francis Pettygrove, who was from Portland, Maine, was made with the flip of a penny.
6. Rochester, New York
The majority of the first settlers of Rochester, NY, came from Rochester, England, and they brought the name with them. In 1819 the residents erected a water-powered sawmill, soon followed by other business ventures, creating a fertile industry in production and retail. The British Rochester is located in Kent, England, approximately an hour's drive from London. Charles Dickens lived in neighboring Chatham until he was five years old, and he spent some of his youth in Rochester, England, referencing the city in many of his novels. One of his former homes can be found on Rochester's High Street, which remains a bustling area of the city center today.
7. New York City, NY
The English weren't the first to settle in New York, with the Dutch arriving in 1609 founding a trading post in 1624, but they were the last to take claim. In 1664 an English fleet arrived to the new land and the Dutch bowed out, and in 1674 the area was renamed New York after the Duke of York, James II, the brother of King Charles II. New York City is the largest city in the U.S. population-wise with approximately eight million people. York, England, on the other hand is a walled city, with approximately 200,000 people in residence. It makes us think of a gated community like here in the U.S., but … with battlement.
Does your city's name have British origins? It's worth checking, it might! 
See More:
WATCH: How to Pronounce Difficult U.K. Place Names
WATCH: Why Part of New York is Built on British Rubble
11 British YouTubers Worth Following
Read More
Filed Under: