There are numerous British pubs and restaurants in the U.S. serving up savory pie dishes, but this time around, we'd like to focus particularly on spots whose menu gives special attention to the flaky dish:
1. Pie Society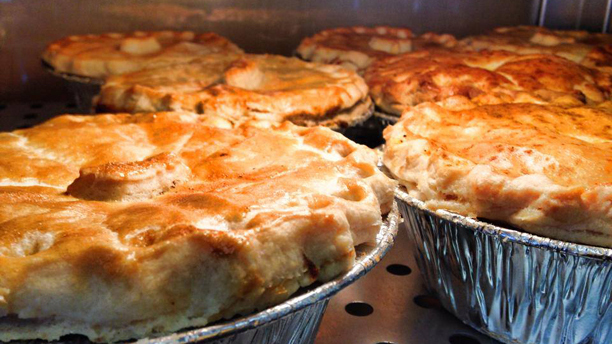 Pie Society, a traditional British bakery, is owned and run by the mother-son duo, Gillian and Edward, who moved to Savannah, GA, from Staffordshire, England in 2013. Edward, the baker, had a dream of moving to the U.S. to open a bakery, and his mum helped him make it happen. The menu is topped up with savory pies like steak and potato, beef and onion, chicken and thyme, and traditional cottage pies. The bake shop is located in Pooler, GA, at 115 Canal Street.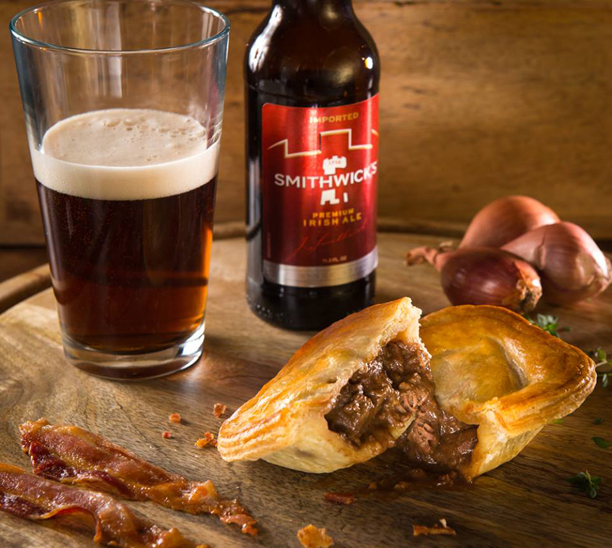 Georgians seem to like their savory pies. Also in GA, Athens to be specific, Pouch is billed as a "late night" pie place. Of course the restaurant is open for lunch and dinner, but wouldn't this pint-size deliciousness just hit the spot after a few pints? Pouch is located at 151 E. Broad Street.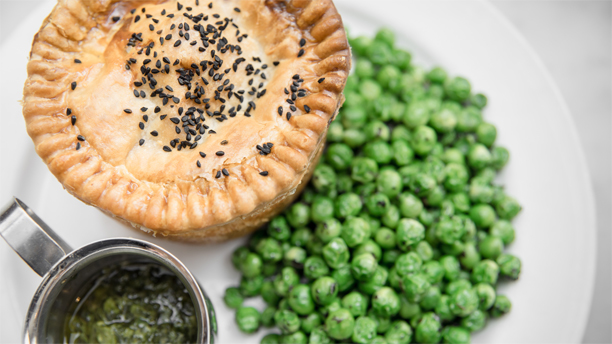 Pleasant House Bakery, located at 964 West 31st Street, Chicago, IL, offers "Royal Pies," like steak and ale, chicken balti, mushroom and kale, and cold pork pie. You can take your time and eat at the restaurant, or leave with a takeaway chilled, cooked pie to heat up at home. The restaurant has a Pie truck that makes the rounds in Chicago, which you can track online via their Facebook page or Twitter.
4. Pie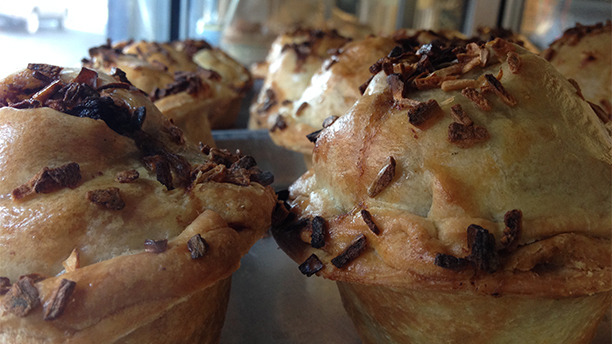 There's no confusing what's sold here with a name like Pie. Founded in 2010, Pie offers "morning pies," "late-night pies," and all sorts of savories in between like English meat, chicken pot pie, peppered steak, mushroom pie, and bacon cheddar scramble. The pies are made in individual sizes, meant to be grab-and-go. The Seattle shop is located at 3515 Fremont Ave. N. The shop delivers in the surrounding area, but not nationwide.
5. Heather's Savory Pies and Tapas Bar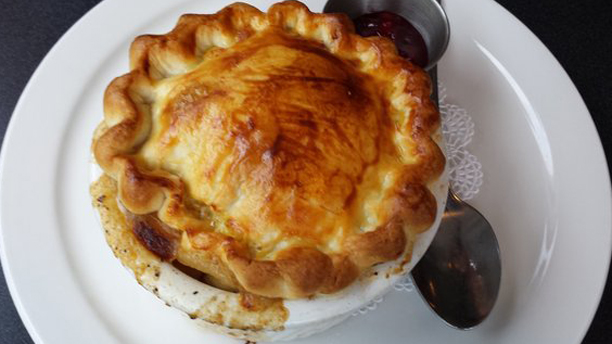 Located 20 minutes from Aspen, CO, Heather's is all about comfort and warmth when it comes to both the atmosphere and the food. Heather's offers individual and large pies like chicken pot pie, lamb shepherd's pie, pulled pork tamale pie, ropa vieja Cuban stew pie, and a vegetarian pie. The restaurant is located at 166 Midland Avenue, Basalt, CO.
6. The Pie Shop @ Kitchener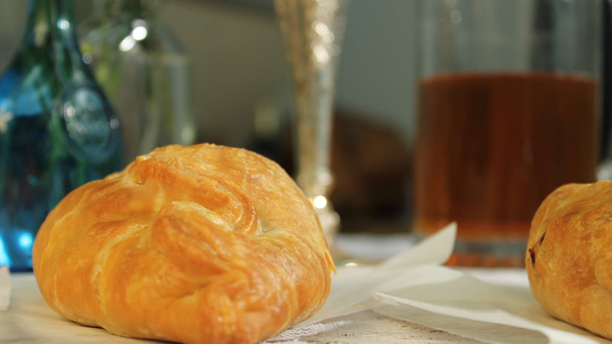 This British pie shop popped up in Oakland, CA, in 2012. Owner and chef Nellie Stokeld has followed in her British father's footsteps. Nellie's dad, Chris, moved to California from North Yorkshire to cook and serve British fare in the 1960s. Nellie and her three brothers grew up making pies right next to their father, and now it's Nellie's turn. The newbie pie maker bakes her handmade treats out of the Kitchener Oakland, located at 372 24th St., where you can pick up a batch of freshly cooked or frozen pies including Cornish pasties, chicken and mushroom, or curry vegetable flavors.
7. Hartley's Original Pork Pies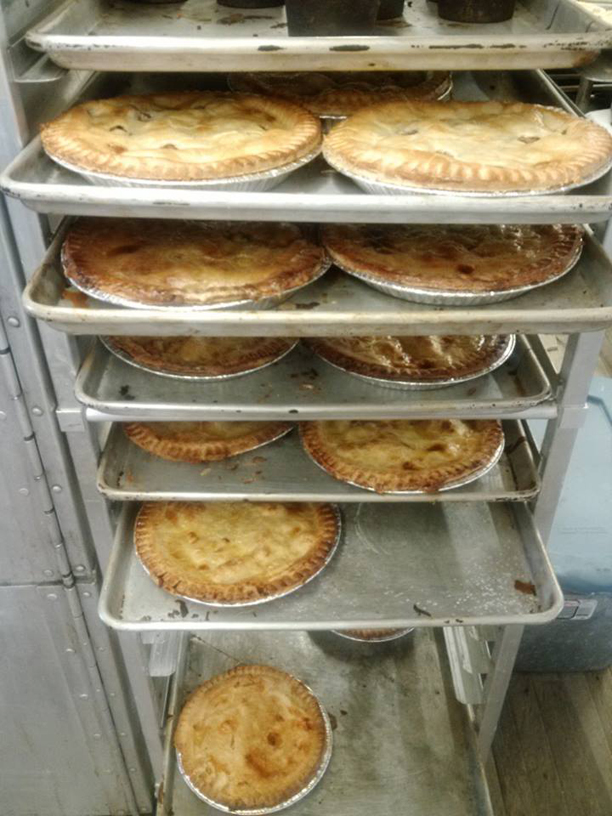 Established in 1902, Hartley's Original Pork Pies, has been making traditional British pies for over 100 years. The family-run restaurant has practically reached cult status in its neighborhood and surrounding area. Hartley's doesn't have a website, because it doesn't need one, relying on its reputation and word of mouth. But they do have a Facebook page. The restaurant started off with just pork pies, but has expanded, now including chicken, beef, chorizo, and salmon. The New England staple can be found at 1729 S. Main Street, Fall Rivers, MA.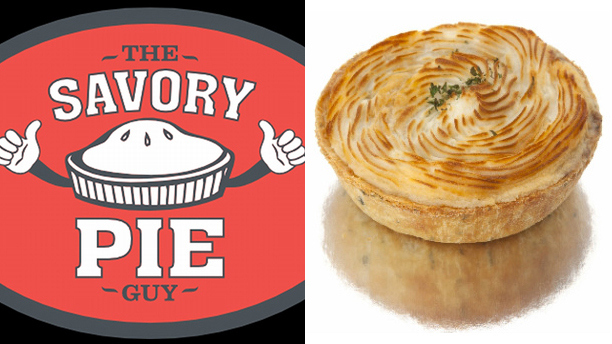 On the other hand, the Savory Pie Guy, based in NYC, has a decked-out website that even offers a live chat button in the lower right-hand corner. His pies come in all sorts of flavors like egg and cheese, chicken and mushroom, NY shepherd's pie (seen above), steak and mushroom, curry chicken, and vegetable curry. Based on the East Coast, the Savory Pie Guy's pies can be found in bars and pubs in NYC, and retail stores in New York, New Jersey, Connecticut, and Massachusetts. He can deliver locally in NYC.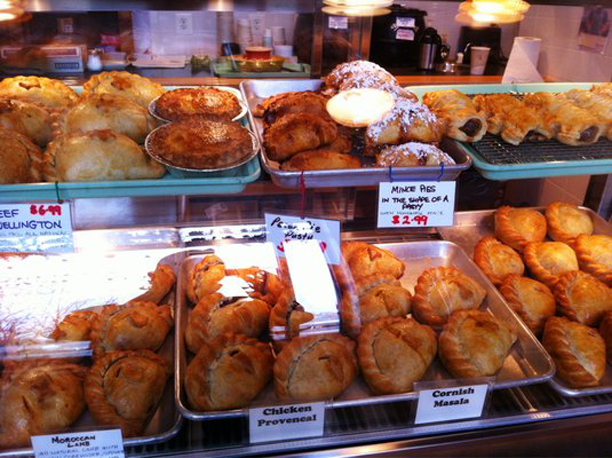 The Pure Pasty Co., located at 128 Church Street Northwest, Vienna, VA, is topped up with savory pasties like the traditional style, chicken cordon bleu, curry, lamb, and serves savory pies like steak and kidney, and pork. You can sit and eat or have it to go. The pasty comes with a twisted closing that you can use as a handle, and even walk and eat. Ta-da.
10. The English Pork Pie Company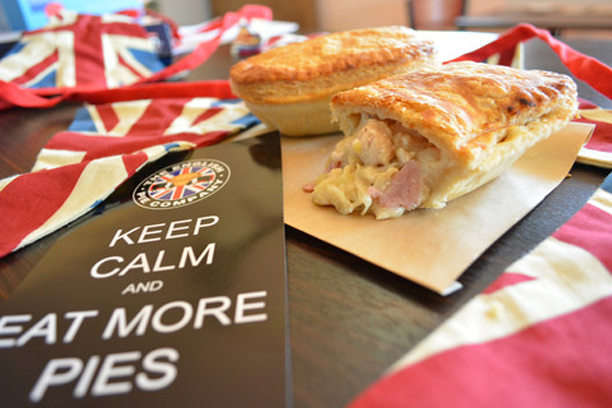 If you've gone through the list and find yourself biting your nails, thinking, "But none of these places are by me. I can't go. I want pie," there's no need to worry, because the English Pork Pie Company delivers nationwide. Whew. You can choose from tasty options like beef and onion, cheese and onion, chicken and mushroom, chicken tikka, chicken and leek (seen above), beef and potato, peppered steak, and steak and ale. Damian and Vicky, the English couple who own and run the company out of Buffalo, NY, provide instructions on the best way to cook your pies.
Who's having pie for dinner?
See More:
10 British Go-To Pubs in NYC
10 Places to Do Tea in NYC
10 Must-Try Cake Shops in London
Read More
Filed Under: