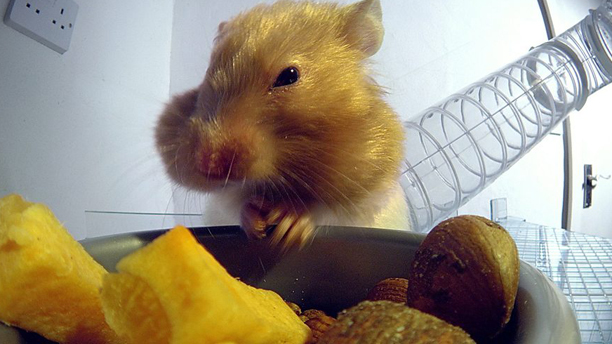 If you've seen the highly popular video series featuring tiny hamsters eating tiny burritos (or tiny pizza, or tiny Thanksgiving dinner), then you know that hamsters are the "in" pet these days. Now, partner one of those cute lil' guys with our darling David Tennant, and we really have something there.
Tennant lends his voice to the two-part BBC One/PBS documentary series Pets: Wild at Heart, which examines what makes pets do what they do, like a hamster's ability to store so much food in his cheek pouches, what inspires parrots to talk, and how surprisingly effective the doggie paddle is … for, well, dogs.
According to Tennant's narration, "Our favorite pets have been in our homes for thousands of years, but they've been in the wild for millions more."
There's a secret to hamsters' storing methods as seen in the below clip:
This parrot's "cage is bigger on the inside," according to him:
It turns out, dogs can see well under water:
The below trailer highlights other pets featured in the documentary:
The same people who created Penguins: Spy in the Huddle, also narrated by Tennant, bring us Pets: Wild at Heart. The first of two episodes airs this week on BBC One on Wednesday, January 21.
The BBC One series was made in conjunction with PBS and WNET.
What does your pet do that surprises you?
See More:
What Are Brits Watching?: 'Penguins: Spy in the Huddle'
A British Animal Sanctuary Discovers All 100 Female Guinea Pigs Impregnated
8-Year-Old Kent Girl Befriends a Skunk
Read More
Filed Under: