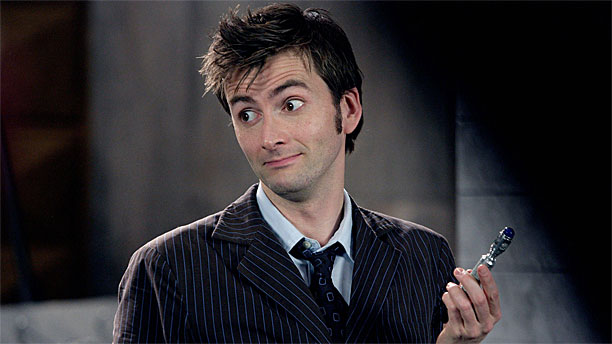 For no particular reason other than we love him, he won an award for being awesome and he appears to have taken over both acting and the internet, this week's Doctor Who's Day is largely given over to David Tennant, the Tenth Doctor, the man who didn't want to go, and hasn't gone, as far as the affections of Doctor Who fans is concerned.
So let's start with that award. He won a Special Recognition trophy at the National Television Awards, and the video package they played before his speech featured his dad, The Very Rev. Dr. Alexander "Sandy" McDonald:
• Here's a lovely backstage interview he gave to Digital Spy immediately afterwards:
• We also found out that he's been cast in Marvel's new Netflix show AKA Jessica Jones. He plays the rotten Zebediah Kilgrave, a character whose name is spelled Killgrave in the comics, but not for TV. He's not going to be billed as David Tenant, however.
• And while we wait for that to arrive, do you want to see an early performance of David's from the British drama Foyle's War?
Come this way for more information and another clip…
• David also makes an appearance in the trailer for the BBC's Comic Relief charity telethon, but as their slogan is "make your face funny for money," he's not quite the dashing Tenth Doctor we know and love…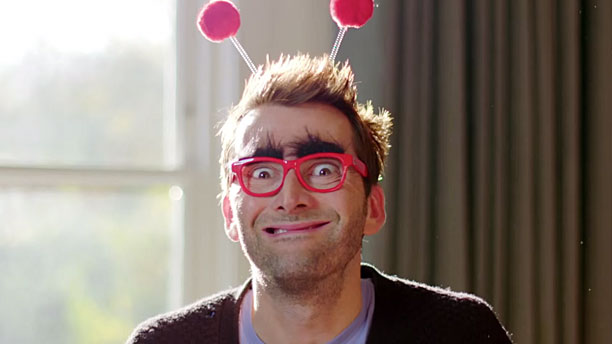 Here's the trailer:
Here's what else has been going on in space and time this week:
• January 22nd was the 75th birthday of John Hurt, better known to Whovians as the War Doctor. Here's our tribute, a guide to the 10 roles you need to see.
• We love this:
• Who wants to see a deleted scene from Karen Gillan's 2013 romantic comedy Not Another Happy Ending?
• Radio Times compiled a list of the most shocking twists in modern Doctor Who.
• There are new issues available of the Doctor Who Titan Comics, with stories of both the Eleventh and Twelfth Doctors hitting the shelves.
• Whovians on the Northeast coast of the U.S.: the Doctor Who Shop wants you to tweet your best snow day photos using hashtag #whoviansvsjuno.
Hey #Whovians, show us all the #DoctorWho fun you're having on this snowy day! #whoviansvsjuno http://t.co/53YhaPiNVg pic.twitter.com/SVhdr0Ylwg

— Doctor Who Shop (@DoctorWhoShop) January 27, 2015
And finally, a little musical moment to go out on. Here's a crafty version of the Doctor Who theme, as played by the very talented Rui Paiva. Don't worry, he's not becoming Oodish, that tube is attached to his melodica:
TTFN!
Read More
Filed Under: