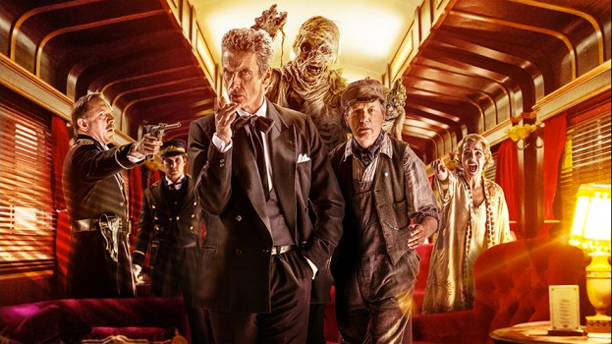 So he's watched the moon hatch into a colossal dragon butterfly, he's mopped up Courtney Woods's travel sickness and looked on on shock as Clara strode out of the TARDIS, demanding to be left alone. Where will the Doctor go next?
The space Orient Express, that's where. Just like the space Titanic, this week's Doctor Who will see a famous Earth-bound form of transport recreated for a new generation of travelers, and that would be great except there appears to be a mummy on board that can predict the deaths of the passengers. Here's the next time trailer:
And the BBC One teaser with some extra bits in:
Eagle-eyed fans will have spotted the comedian Frank Skinner (he's the one saying "can we get a new expert?") as well as the singer Foxes. Here's the official synopsis:
The Doctor is on the most beautiful train in history, speeding among the stars of the future. But a deadly creature is stalking the passengers.
Once you see the horrifying Mummy you only have 66 seconds to live. No exceptions, no reprieve. As the Doctor races against the clock he's seen at his deadliest and most ruthless. Will he work out how to defeat the Mummy? Start the clock!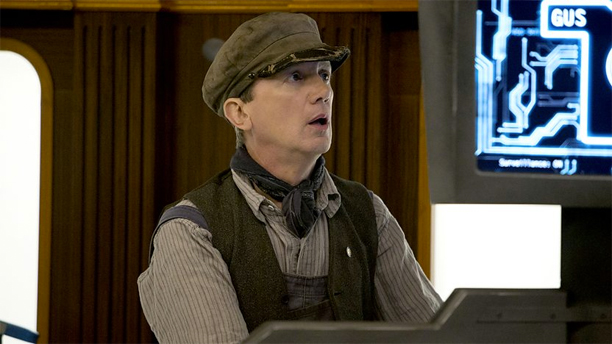 Here's what else has been going on in space and time this week:
• The Doctor and Clara have had a rough time of it, having taken a trip to the moon with Courtney Woods, only to discover it's a lot heavier than it used to be and appears to be full of spiders.
• Here's our recap of "Kill The Moon". And the Doctor Who Extra, for the backstage view:
• There's also a gallery of images from this week's show, including this intriguing moment between Lundvik and Courtney Woods (Hermione Norris and Ellis George):
• And two backstage galleries. One on the moonbase, and one back on Earth.
• Peter Capaldi appeared on The Graham Norton Show and had to endure a brief jaunt back down his own time-line, to revisit his youth as a Doctor Who geek:
• Jenna Coleman posted this photo to her Instagram, confirming that the Christmas special shoot has ended:
That's a wrap. Doctor Who Christmas xxx
• And Danny Hargreaves, special effects supervisor for Doctor Who and Sherlock, amongst other things, tweeted this photo from the Christmas special wrap party:
#DoctorWho Xmas wrap party going into tomorrow !!! @realsfx pic.twitter.com/6UhOWvtRAY — Danny Hargreaves (@Dannysfx) October 3, 2014
• There's now a promotional video for the new adventure at the interactive Doctor Who Experience in Cardiff Bay, starring Peter Capaldi's 12th Doctor:
• John Barrowman weighs in on Capaldi, saying: "I love the fact he's Scottish, and that they've given him a cape. It takes me back to the olden days." As to whether or not we'll see the return of Captain Jack Harkness: "I would love it, and I think the fans would want it. I know how popular Jack is because of the reception I get all over the world, but it's in the fate of the gods."
• Get a sneak peek at the Doctor Who Skins Pack on Minecraft for XBox 360:
• And a Who-themed Minecraft rollercoaster:
• On that note, can you identify the characters in their Minecraft form?
• Or tell your Doctor Who from your Dr. Seuss?
• BBC Two's The Culture Show recently put together a short history of the origins of Doctor Who, listing some of the key players in the show's creation. Here's a snippet:
• CNN gives you a roundup on what Who cast members are up to now.
• And finally, is anyone feeling peckish? Presley from Act Out Games has these delicious-looking Adipose made from marshmallow and melted chocolate:
TTFN!
Read More
Filed Under: