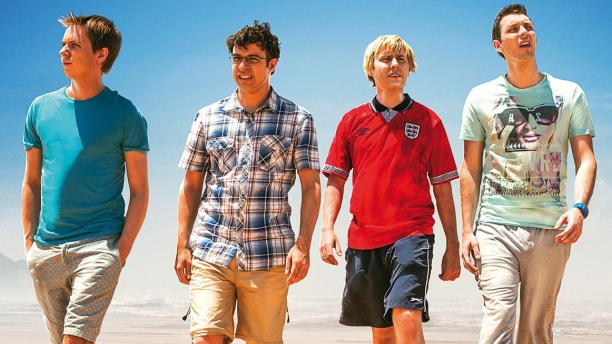 It's rare that we get the opportunity to show a clip from an Inbetweeners movie that we don't have to preface with a warning about NSFW language or content, so we're grasping that opportunity with both hands here.
The Inbetweeners 2 is, unsurprisingly, the sequel to the smash hit 2011 comedy The Inbetweeners — itself a spinoff from the U.K. sitcom of the same name. The new film sees the four former schoolfriends, played by James Buckley, Joe Thomas, Simon Bird and Blake Harrison, indulging in the grand old British tradition of the "gap year" abroad: specifically, to Australia.
This new clip follows hot on the heels of a longer trailer released last month, but is (by Inbetweeners standards) surprisingly restrained, focusing instead on an amusing conversation about the apparently cruel dietary habits of dolphins. Check it out below:
The Inbetweeners 2 lands in U.K. cinemas on August 6. There's no word yet on a U.S. date, but given the surprise box office success of the first film's limited stateside release in 2012 — where it grossed $36 million — it wouldn't be a huge shock to see it picked up for distribution at some point.
Are you looking forward to another outing with the boys?
See More:
WATCH: NSFW Trailer For 'The Inbetweeners 2'
OK, Now There Definitely, Really WILL Be Another 'Inbetweeners' Movie
'The Inbetweeners' Film: Biggest Comedy Opening Ever
Read More
Filed Under: