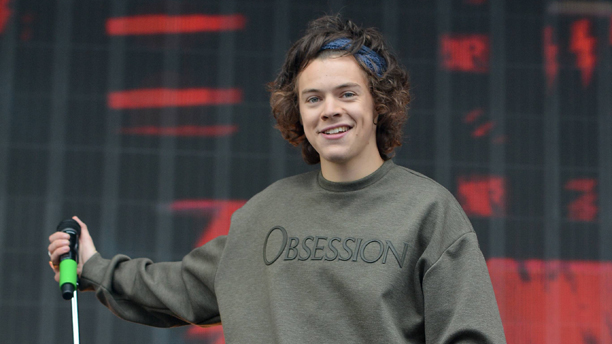 This could have gone terribly wrong. One Direction's main stud Harry Styles posted a video on YouTube in which he spoke directly to superfan Tash Gershfield, advising her to ditch her fiancé hours before the nuptials.
One Direction, made up of Styles, Niall Horan, Zayn Malik, Liam Payne and Louis Tomlinson, receives hundreds of thousands, if not millions, of requests from fans via fan letters, Facebook, Twitter and … who knows, gift basket?
One fan even went so far as to threaten to kill her dog if she didn't hear back from the boy band. But, that's another story (the dog was not hurt).
It's not clear how Gershfield got Styles' attention, but she did in turn receive a video shout-out from the 20-year-old singer saying, "Tash. You don't have to go through with this. It's not too late." He even gives her a place and a time to meet him. Umm, this just gives us the sinking feeling: what if she took him up on it?
"I'm here, Harry! I'm here. Harry?"
You can watch the video with Styles being all smooth and irresistible here.
Luckily the bride-to-be had her head on straight and was able to resist his advances. She decided against ditching the love of her life for the practical jokester. She even waited an appropriate amount of time before posting the video and published it a few days after the wedding.
Her now husband James went along with the stunt tweeting the below:
Thanks so much to @benwinston and @Harry_Styles for the video at my wedding. I'm pleased to say that she stayed and didn't go to Orlys.

— James Gershfield (@jamesgershfield) June 10, 2014
Actually, he seems to be quite enjoying the attention:
Can't believe the video from @Harry_Styles has plastered my wedding all over the internet. I love that @tashcrawfordx chose me.

— James Gershfield (@jamesgershfield) June 11, 2014
Aw, young love in the digital age.
What do you think of celebrity gatecrashers?
See More:
WATCH: British Reporter Recruits Famous Actors for Wedding Video 
Zach Braff Helps British Fan Propose to His Girlfriend
Throwing a Perfect Wedding: How to Combine British and American Traditions
Read More
Filed Under: