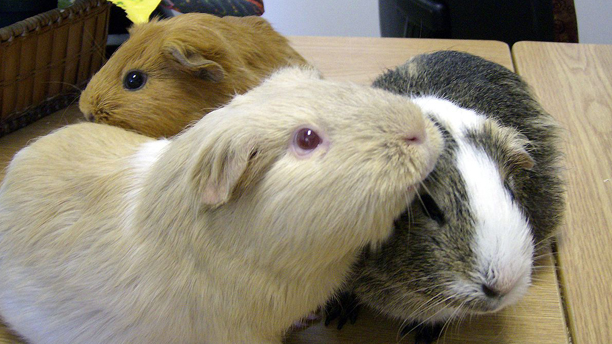 A male guinea pig at Hatton Country World in Warwickshire, England, was mistakenly placed in the female pen and he made use of his time, impregnating all 100 female guinea pigs, reports Huffington Post U.K.
The staffers at Hatton Country World weren't sure what to make of the inspection when realizing all of the females were pregnant. An expecting guinea pig typically has a litter of four. I'm not a mathematician, but that's a lot of guinea pig babies, approximately 400.
The dad-to-be was found exhausted and sleeping in a pile of straw in the female's enclosure. The "culprit" was tuckered out for the obvious reasons. He's been renamed "Randy," again, for the obvious reasons.
Richard Craddock, Hatton Country World Manager, told the Huffington Post, "One of our male guinea pigs managed to find his way into the female enclosure and had a very good time by the looks of it."
Craddock and his team have two guesses as to how this happened: 1) Randy was taken out as part of the petting zoo and he was placed back into the wrong pen; 2) He broke out on his own and fancied a visit with the ladies.
Craddock went on to comment on the looks of Randy saying, "he looked a little thinner," after his workout. They estimate Randy must have mistakenly been left in the pen for several weeks in order to manage these kind of results.
The park is already planning to extend the guinea pigs' accommodations to make room for Randy's 400 children. Now we're picturing 400 mini guinea pig cribs.
You can find a gallery of photos including the guinea pig village at the park, Randy, and some of his gal pals here.
Congratulations Randy on being a new father (you sneaky bugger)!
See More:
Snapshot: Inside London's First Cat Café
8-Year-Old Kent Girl Befriends a Skunk
Richard Hammond Demonstrates Animal Magnetism
Read More
Filed Under: