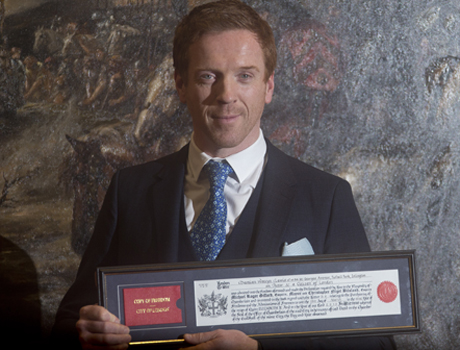 Damian Lewis (Homeland) has been awarded the Freedom of the City of London based on his achievements as an actor, reports BBC News.
The gift of the Freedom of the City of London is believed to be one of the oldest surviving traditional ceremonies still in existence today, with the first Freedom presented in 1237.
When asked about being the recipient, and the honor that comes with it, Lewis said it was "one of the greatest I've ever received."
He accepted the award at the City's Guildhall and stated, "It's remarkable, I'm still surprised. I wasn't quite sure if they'd got the right person, so I'm very happy to be here. It's a rare occasion."
Oh, Damien … you and that British self-deprecation. He recently took home a 2013 Golden Globe Award for Best Actor Drama Series based on his performance in Homeland and an Emmy in 2012. He should be used to it by now? Either way, his humbleness is welcomed.
While Lewis spends a lot of his time in the U.S. due to filming, the London-born actor said, "I feel like a Londoner through and through actually. London is the greatest city in the world, I think." Apparently, London returns the warm feelings.
The Freedom award offers recipients a link to the historic City of London and one of its ancient traditions according to the official City of London website.
What's next for Damian Lewis? 
Read More
Filed Under: