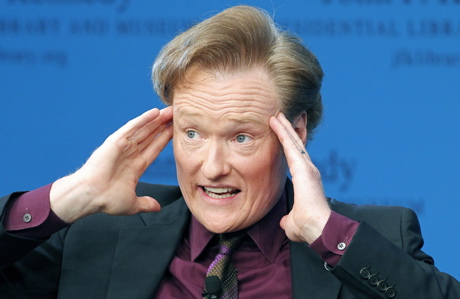 Late night talk show host Conan O'Brien has always reveled in his Irish roots. Maybe that's why he showed so little reverence for the sudden tragic plot twist at the end of the season three finale of the British TV series Downton Abbey, which aired on PBS last Sunday.
(Spoiler ahead. Read no further if you haven't watched yet.)
As just about every Downton fan now knows, dashing Downton Abbey heir Matthew Crawley (played by Dan Stevens) died in a car crash at the closing minutes of the show. His untimely end came shortly after he had held his newly born son and pledged his undying love to Lady Mary, his wife. (Stevens wanted off the show at the end of his contract and creator-writer Julian Fellowes has said he saw no alternative but to kill off the actor's character.)
On his eponymous TBS talk show, O'Brien proposed and showed an alternate ending, one that's equally tragic but even more surprising. Take a look:
——————————-
Which ending do you prefer?
——————————-
Read More
Filed Under: