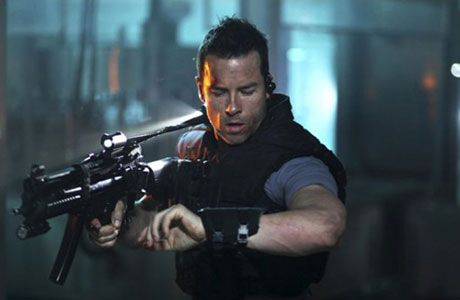 Guy Pearce — who was seen two years ago playing King Edward VIII in The King's Speech — is back on screen in a vastly different role, portraying a futuristic action hero in the film Lockout, which arrives in cinemas today (Friday, April 13).
The actor says: "I always try to break new ground. I guess I haven't really done such an action-oriented type film, but it doesn't necessarily mean I'm now heading in this direction. Ultimately I still don't want to become typecast. I don't want to end up playing the same role over and over again."
In Lockout, Pearce plays an ex-government agent tasked with saving the U.S. President's daughter who's being held hostage by a group of inmates who've broken free in a space station prison. It's a film that doesn't take itself too seriously. Pearce's character exchanges humorous wisecracks with the President's daughter played by Maggie Grace.
At a recent press screening journalists appeared to be laughing at the film, produced and co-written by French filmmaker Luc Besson, as much as they were laughing with it.
"As long as they're laughing I think that's what I would hope for," says Pearce.
He explains that the film's co-directors "were very clear about having a character that laughs at himself, that tries to make other people laugh, that has the audience laughing."
Guy Pearce is an extremely versatile actor. His memorable performances have included playing a drag queen in his breakout role in The Adventures of Priscilla, Queen of the Desert. He also made a mark as a police office in the neo-noir L.A. Confidential and as an amnesiac seeking revenge in British director Christopher Nolan's Memento.
Now, with Lockout, he can add playing a pumped up action hero to his list of portrayals.
The actor maintains he takes on specific roles because he wants them – not because of any conscious strategy to broaden his range and increase his career options.
He responds: "There's nothing strategic about the work that I choose much to my agent's dismay. I just tend to do things because I have a particular response to them, and they just feel right at the time."
One of Pearce's next roles will be in another sci-fi film when he appears in British director Ridley Scott's new film Prometheus out in a few weeks time. But in the immediate future he's going to take a rest.
He says: "I'm actually on a vacation at the moment, so I'm taking a break from everything. I'm just needing to decompress and recharge and spend some time being myself for awhile."
And when will he start review scripts for future films?
"I just need to get to a point where I've cleared my head, and I can start reading and then hopefully something will jump out," he says.
How appealing is Guy Pearce as an action hero? Tell us below:
Read More
Filed Under: