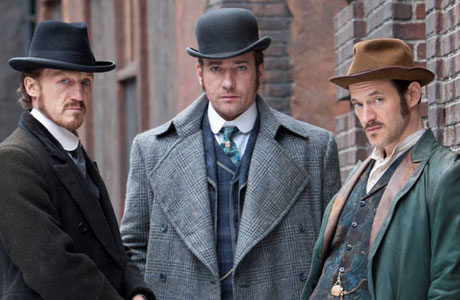 A modern-day Jack the Ripper copycat killer was the focus of BBC America's successful crime series Whitechapel, but now the network is co-producing a period police drama that will transport us to the actual 1889 setting of the East End murders. Ripper Street, an eight-part series created by Mistresses writer Richard Warlow, will star Matthew Macfadyen (yes, those sleepy baby blues will return to our screens, MI-5 fans), Game of Thrones' Jerome Flynn, Alcatraz's Adam Rothenberg, Twilight's Myanna Buring, and Luther's David Dawson. BBC America is co-producing alongside Tiger Aspect Productions and Lookout Point. Filming began in Dublin last week, with an eye toward fall for a premiere in BBC America's Dramaville block.
Ripper Street will zero in on the infamous H Division, the detectives who manned the East London streets in the aftermath of Ripper's killing spree. Richard De Croce, SVP of Programming at BBC America, said: "We're thrilled that Ripper Street is coming to our channel as part of Dramaville, the home of outstanding British drama. To this day, audiences continue to be fascinated by Jack the Ripper and the events in Whitechapel in the late 19th Century. This script and cast are going to take us for a great ride. We're excited to be involved in such an ambitious production with Tiger Aspect and Lookout Point."
Crime drama fans, while you're waiting for Ripper Street, the new season of Whitechapel premieres Wednesday, March 28 at 10/9c.
How much are you looking forward to Ripper Street? Tell us below:
Read More
Filed Under: