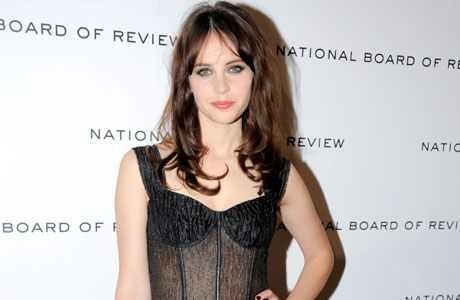 British actress Felicity Jones has a new project in the works starring in a film called The Invisible Woman.
Jones says she will be playing Nelly Ternan, who allegedly had a secret affair with British novelist Charles Dickens.
The actress told me, "There isn't a lot known about her, and I've just read the biography which the film is based on, and it's an exploration of that relationship."
It's been reported that the picture will be directed by Ralph Fiennes, who'll be working from a screenplay written by The Hour creator Abi Morgan.
Next month will mark the 200th anniversary of Dickens' birth and Jones is certainly a fan "People say he's an excellent screenwriter in many ways. I think, he just knows how to tell a good story and keep the audience engaged, and that's a skill that not many people have," she says.
It's hoped that shooting of The Invisible Woman will get underway later this year.
Meanwhile 28-year-old Jones is collaborating with Hollywood icon Warren Beatty on a different film.
She says: "It's a story about Howard Hughes, and also there's a love story between two young people who come to work for him."
The actress acknowledges that it's extremely flattering to have a big Hollywood player like Beatty seeking her out for film roles: "It's absolutely extraordinary. I'm such a huge fan of his. I think he just understands filmmaking so instinctively. It's going to be very exciting."
Early in awards season Felicity Jones was considered a possible Oscar nominee for her role in the low-budget romance Like Crazy. But in the face of strong competition in the Best Actress category, few Oscars watchers now think she'll be nominated. She maintains she doesn't really dwell on all the pre-Oscars predicting. "I think for my piece of mind, I try not to think about it too much. I think if you get too caught up with that kind of thing, then it just makes you feel a bit crazy," she says.
Read More
Filed Under: