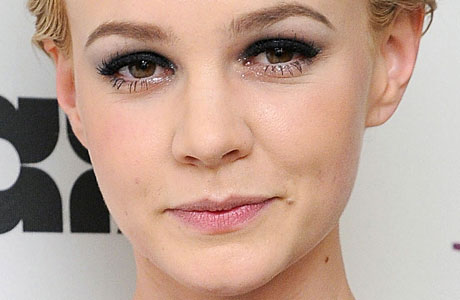 Carey Mulligan has been discussing the extreme lengths she will go to to get a part, some of which have left permanent marks (don't worry, her appearance in Doctor Who is not one of those times).
Speaking to the Guardian about her role as a girl called Sissy, who has an addiction to sex, in the new Steve McQueen film Shame, she revealed that part of the reason she was attracted to the role is that the character required her to go to emotional places she could never see herself going to in real life.
Being such a reserved, discreet person, she found Sissy a bit of a stretch, because she's "such an exhibitionist, such an extrovert. I tend to clamp up on camera, but this meant working with no inhibitions. I mean, I don't wear a bikini on the beach. I walk around my house in pyjamas. I haven't seen myself naked in the mirror for probably a decade. I'm very prudish."
This is not your average actor. Most of the others have to be pried off the mirror with a hot spatula.
She also tells a startling story about how she got the role, having met Steve McQueen for coffee to talk it over. His initial attitude was very much: "You're good, but if you're going to do this you're going to have to be 16 times better."
She explains; "He tried to leave about 10 minutes in when I was there to basically beg for the job, an audition, whatever. He was like, 'All right, nice to meet you,' and I was like, 'WOAH! Wo, wo, wo – what are you doing?' So I convinced him to sit down again, and he started asking why I wanted the part, and I basically said I just hadn't found a film role comparable to how I felt when I was playing Nina in The Seagull."
"When I read this script I thought, it's not the same person, but I hadn't found that sort of fear in anything for a while … So I said: 'This is exactly the kind of film I want to be making. I don't want to be making big, silly films.' And then – Oh God, I was really trying to get the job – I started reciting Chekhov. I started going: 'I know now, I understand, it's not about fame or glory, all the things I used to dream about, it's the ability to endure, to bear your cross, to keep the faith, I do have faith, and when I think about my vocation, I'm not afraid of life.' And he said: 'That's right! You're an artist!' And I said, 'I know!'
"He got me so riled up I said: 'In fact, I want to get a tattoo of that just to remind myself.' And he said: 'You get the tattoo, you get the job.' The next day I did, and he gave me the job that afternoon."
Presumably the idea of showing him Blink hadn't occurred to her.
Read More
Filed Under: