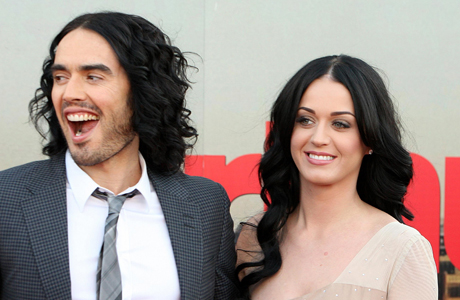 They buried the announcement on the cusp of a holiday weekend: one of Hollywood's biggest transatlantic couples is no more, as British comedian Russell Brand has filed for divorce from American pop star Katy Perry. "Sadly, Katy and I are ending our marriage," Brand said in a statement to People Magazine. "I'll always adore her and I know we'll remain friends." The news comes just a little over a year after the pair wed in a lavish ceremony in India.
Katy's career is flying high these days, as she continues to pump out No. 1 hits, but Brand has fallen on hard times. His big star vehicle, this past spring's remake of Arthur, flopped massively. He looks to the upcoming film musical Rock of Ages to rekindle his erstwhile "It boy" status.
Well… there's always Gwyneth Paltrow and Chris Martin to keep our two nations ever-so-bonded.
The Russell/Katy split… did you see it coming?
Read More
Filed Under: