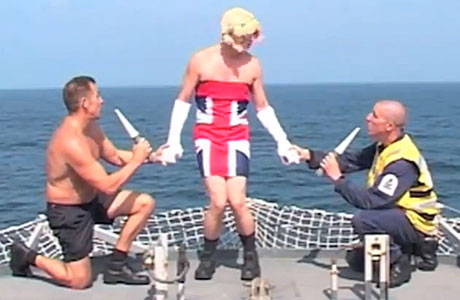 When the crew of the HMS Ocean found out that their seven-month tour of duty – including a stint in Libya during the revolt against Colonel Gaddafi – would be ending in time for Christmas, they chose to celebrate this in an unorthodox fashion, by making a video of themselves larking about to Mariah Carey's festive cracker "All I Want For Christmas Is You," to make their families smile, and (let's be honest) because there's not a lot else to do out at sea when you're not busy.
They then put it on the internet and got back to their duties.
Some 700,000 views later, the crew find themselves on the receiving end of a message from Mariah Carey herself, who saw the video and immediately tweeted: "This is the best thing I've ever seen, you guys just made my day! Happy Happy Christmas!!! x0x0 to the troops."
Lt Kelly Cleeve told BBC News that the video had been filmed during a period of respite, as  "a way to boost morale and give the guys a bit of a diversion," after a stressful few months.
"The response to the video has been amazing, and I've been watching with much interest. We chose this particular song as it was upbeat, cheerful, fun and well-known. Most of those that saw it were complaining that they had the song stuck in their heads for days afterwards."
Now you know how Mariah Carey feels.
Read More
Filed Under: