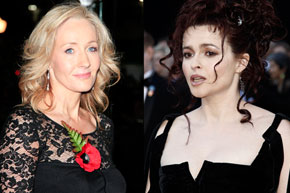 VOTING IS NOW CLOSED – CONGRATS TO WINNER HELENA BONHAM CARTER
Once again, here we are on Center Court. Two strong competitors have survived the test of four weeks and thousands of votes. Either contender will wear the name "champion" with honor and dignity. But only one will be the Anglo Fan Favorite of 2011.
In the near court, we have JK Rowling. The world's first billionaire novelist, an industry unto herself. A woman whose new releases inspired millions of loyal followers to queue up along cold streets at midnight… for a book. A woman whose rags-to-riches story is as compelling as her fiction.
In the far court, you have Helena Bonham Carter, a one-time costume drama ingenue who aged into one of movie's most charming eccentrics. An actress of astonishing range, who, in one year (2010), played the campy Bellatrix Lestrange, the terrifying Red Queen, and the reserved, acerbic Queen Mum (opposite men's runner-up Colin Firth). A BAFTA winner and two-time Oscar nominee.
It's a battle I won't even begin to handicap. Of course this sets up an almost perverse third-place matchup between Dame Maggie Smith, the most mature participant of the tournament, and Emma Watson, the youngest.
Again, there's a one vote per day limit. We're one week away from naming the Woman of 2011! Make your votes count! Voting ends Thursday, October 6th at 11 am ET.
ROWLING VS. BONHAM CARTER – VOTE!
Read More
Filed Under: