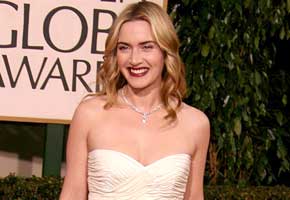 • Kate Winslet's family holiday at Richard Branson's private island paradise became a tropical hell this morning (August 22). The Oscar-winning British actress, her boyfriend and kids, and around 20 other guests were inside Branson's eight-bedroom home in the British Virgin Islands when it caught fire, shortly after Tropical Storm Irene made landfall. Branson's 25-year-old son Sam reportedly played hero, whisking the guests to safety. No one was harmed in the blaze. Winslet, however, became a Twitter trending topic today due to her near-death experience.
(Washington Post)
• Dame Eileen Atkins will not appear in the next season of the new Upstairs Downstairs, reportedly due to her unhappiness with upcoming scripts.
The BBC (via BBC News) made a statement about Atkins's departure: "It's with much sadness that we say goodbye to her wonderful character, the straight speaking mother-in-law Lady Holland. However, we respect her decision and we will be announcing new star casting soon."
Atkins is currently nominated for an Emmy for playing Lady Holland in the series, which was revived this year. The original '70s series, which Atkins co-created with actress Jean Marsh, is No. 10 on our reader-selected Greatest British Dramas list.
• Looking at all the unrest in the UK these days, apparently British band Kaiser Chiefs were prescient with their 2004 hit "I Predict a Riot," right? Guitarist Andrew White tells NME.com, "It's funny, if you listen to our lyrics and give it a f***ing chance, we did predict this."
Here I was thinking that they just wanted everyone to have a massive pillow fight. We'll let you be the judge.
• Remember paparazzo Darryn Lyons from the reality series Paparazzi? Well, the founder of the Big Pictures photo agency is now inside the British Celebrity Big Brother house, where he's parading around shirtless, exposing his surgically-enhanced abs. The Sun has photos.
• British pop star Will Young, soon to appear on BBC America's Bedlam, has a new album out in the UK (Echoes) and an interview with Digital Spy. Here's his latest single, a techno rave-up titled "Jealousy."
http://www.youtube.com/watch?v=pElbXYsZ9OU
Read More
Filed Under: