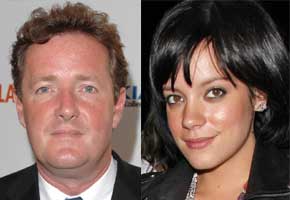 As the riots across London and elsewhere continue to dominate British news, our celebs have come out in force (well, on Twitter at any rate) to condemn the lootings.
Footballer Wayne Rooney wrote: "These riots are nuts why would people do this to there [sic] own country. Own city. This is embarrassing for our country. Stop please."
The rapper Tinchy Stryder agreed: "There is no poverty in England, England is not a 3rd world country… STOP making excuses for the riots, innocent families are suffering."
Piers Morgan raged: "Millions of people are suffering in this financial crisis, but not looting/rioting/pillaging – no sympathy for these yobs whatsoever."
Singer Jessie J tweeted: "In my opinion we need to discussing how to prevent this happening again. Really understanding why these people have done this…Young & old "
And Lily Allen has also been chatting with many of her followers about the fracas. She said to one follower by the name of @MikeConstantine: "Of course not, but I don't think this is about tellys and trainers, the youth are frustrated and I can see why."
Later, she added: "@MrSIMuk yes, but the fact that there are so many young disaffected/opportunistic/robbers amongst us, would suggest theres a big problem.
And a number have also backed the hashtag campaign #riotcleanup, in which volunteers have turned out with brooms, ready to sweep the streets clean again.
Stephen Fry wrote: "I do hope that if I was in London now I'd be as good & brave & kind as all those who are agreeing to meet & help clean up #riotcleanup"
• Bad news for Jamie Oliver. His Birmingham-based restaurant has been vandalized during the riots. "Sadly my restaurant in Birmingham got smashed up, windows all gone, whole area closed, can't open, staff and customers all safe!! Thankfully," he tweeted earlier today.
• One of the unexpected, and sad consequences of the riots has been the burning down of the Sony DADC warehouse in Enfield. This is the storehouse where indie record labels such as XL (Adele) and Domino (Arctic Monkeys) store their CDs ready for shipping out. Needless to say this will have a pretty devastating effect, with some smaller labels possibly facing a tough future. (via Musicweek)
• The Guardian has the full list of all the labels who've been affected, plus reactions from some of the bands.
• Speaking of whom, Adele says that she wrote most of the lyrics to her preposterously huge album 21 when drunk, as entries in her diary. She told The Sun: "A drunk tongue is an honest one in my opinion and the next morning I would read it through with an awful hangover and, in the cold light of day, had to absorb my feelings about myself."
• During a recent interview with Britain's Radio Times, Simon Bird, the bespectacled Will on The Inbetweeners, revealed that more times than not, he is told that he looks like Honey I Shrunk the Kids actor Rick Moranis. Poor guy.
• Tulisa Contostavlos says her fellow UK X Factor panelist Gary Barlow is the "new Mr. Nasty." What? With that cherubic face? It can't be! Well, since Simon Cowell is no longer there, we suppose someone has to be.
"Gary is my biggest competition – especially when it comes to speaking his mind. I thought I was bad, but Gary is the shocker. He is harsh. Gary always speaks his mind, if they are s*** he will tell you.
"He just amazes me with what he comes out with. With me it's Tulisa being Tulisa. Curbing Gary will be hard." (The Daily Mirror)
• Gemma Arterton's younger sister, Hannah, is looking to follow her footsteps into acting. And to help her with that is British writer/director Stephen Poliakoff — the same guy who cast Gemma in her first TV role, 2007's Capturing Mary. And now, he has Hannah starring in a small part in My City, his first play in over a decade. (via The Evening Standard)
• Cincinnati native Maggie Muldoon Silverstein recently met Sir Paul McCartney at a show. And being the nice guy that he's known to be, Macca gave her his autograph… on her back, right shoulder. And being the superfan that she is, Silverstein headed to her local tattoo parlor so that such a memory can be there for life. (via Metro)
Read More
Filed Under: