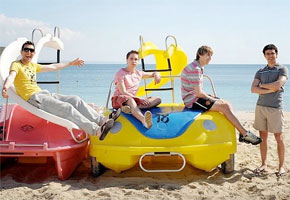 Anyone who has seen The Inbetweeners will be well aware that these are four bullyable boys, in character, at least. But it seems that they're pretty easy to take advantage of in real life too, as they found out while filming their movie in Crete.
Simon Bird, who plays the priggish Will, told FHM (via the Sun) that they came across a spot of bother with some lads, much as their characters would have done: "We were just walking along the beach after filming, and we had a football. This group of quite hard-looking lads walked past and one said, 'Over here, mate. On me head'. I nervously kicked it his way and he just walked off with it!"
Thankfully, their fame came to the rescue, as Simon explains: "One of his mates saw we were off the TV and he came back and gave us the ball and wanted his photo taken. That was just us being bullied in our real lives!"
In other Inbetweeners news, Mike Skinner, the rapper known as the Streets, has been massively involved in putting together the soundtrack to the film, featuring some well-established club bangers from the likes of Calvin Harris and Yolanda Be Cool, and ten new Skinner originals, all of which have names fitting to the script, such as "You're A Virgin," "Clunge in a Barrel," and (sorry) "Pussay Patrol"
And if any of those songs comes close to the imperial majesty of the Streets' 'Fit But You Know It', it's going to be a mighty soundtrack indeed.
Read More
Filed Under: