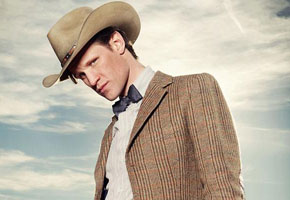 Current Time Lord Matt Smith recently told The Sun that the 50th anniversary of Doctor Who in 2013 should really be a proper reunion featuring the likes of his predecessor David Tennant, as well as Tom Baker, Paul McGann and Christopher Eccleston. Now, wouldn't THAT be incredible? We imagine countless Whovians are squealing with glee at this very moment over just the idea of it.
"How amazing would it be to see Tom Baker?" Smith said. "Can you imagine just seeing him back in the scarf, man? That would be amazing. Paul McGann is a great actor, man, and a great Doctor. I say bring back Chris and Dave, too! How many Doctors can we get into one story?
He continued: "Imagine if there were five or six of us. We could look at each other and judge each other."
• Side note: He says his favorite Doctor is Patrick Troughton. (via Digital Spy)
• If you're hungry for more of Anglophenia's extensive coverage of Doctor Who at Comic-Con, catch Matt Smith and Karen Gillan groovin' out to a little Earth, Wind & Fire. They also divulge what life is like in the Whoniverse here. If that's not enough, check out all the Whovians who totally dressed to impress while visiting San Diego.
• Speaking of Comic-Com, some very clever Who fans decked out a few crosswalks. The San Diego streets will never be the same. (via Anglotopia)
• Don't forget to cast your vote in our hunky Anglo Fan Favorites Tournament. So many handsome Who blokes to choose from, too: Smith and Tennant are there, naturally, as are John Barrowman, John Simm, and former guest stars Simon Pegg and Andrew Garfield.
• In case some of you forgot to tune in, both Smith and Gillan returned to The Late Late Show with Craig Ferguson recently. Matt showed off his beatboxing skills, while Karen was her usual lovely self.
• David Tennant will join Doctor Who alum Sophie Aldred — who we just featured in our weekly Companion guide — for the new CBeebies cartoon, Tree Fu Tom. According to a BBC press release, Aldred will voice the show's title character, an eight-year-boy who has a magic belt, while Tennant will bring his friend, Twigs, to life. The show is set to air next year.
• See this slightly disturbing picture? That's right, the unsettling ginger fop in the daffodil jacket and the rhubarb shirt is none other than David Tennant, in costume for the new Sky Atlantic comedy This Is Jinsy. He plays a wedding planner called Mr. Slightlyman, and no, realism is not what they are going for here. (via The Daily Mirror)
• One program the Doctor will NOT be making an appearance in is Torchwood. Steven Moffat has ruled out any cameo appearance by TARDIS-dwelling Gallifreyans, as the two shows have a different audience, and Whovians tend to be younger. He told Metro: "The Doctor could never go to Torchwood, Russell [T. Davies] and I both agree on that. Doctor Who has a tremendous relationship with children in Britain. They'd want to watch Torchwood then, and it's not really a children's show."
• In a recent interview with AfterElton.com, Moffat addresses incorporating LGBT characters in season 6.
• Moffat also thinks Doctor Who is a bit like Aaron Sorkin's award-winning political drama, The West Wing. Do you? (via Star News Online)
• Suppose you had to try and convince a Who-sceptic to give the revamped new version of the show a go, where would you start? Well, film critic Jack Pelling started by dividing the recent storylines into categories and suggesting the best example of each, for the Huffington Post. His nomination of the Human Nature/Family of Blood story as the most convincing argument as to the quality of the new Who is bang on the money, in our book.
• Karen Gillan has movie deals coming out of her ears it seems. She has that Jean Shrimpton biopic coming up in 2012, and now, Screen Daily reports that she'll play opposite Emun Elliott (Game of Thrones, Paradox) in Not Another Happy Ending. The John McKay-directed romantic comedy will see Gillan play a "beautiful but eccentric writer of miserable, but best selling fiction who's blocked on her latest novel since she became successful and happy." Elliott portrays her publisher.
• An evangelical church in Wales has earned the wrath of BBC Wales after promoting an educational event for school children, including Bible readings, with a leaflet depicting the TARDIS, and the headline "Doctor Phew and the Tardisodes." It also featured the queasy invite to "encounter the Ultimate Time Lord," (and clearly they don't mean The Doctor). The BBC has asked them to cease, in case junior Whovians turn up expecting something more dalek-y. (via Wales Online)
• Leading up to the return of season 6 on August 27 (view the trailer), the Doctor Who Tumblr is doing a "30 Days of Summer Break Doctor Who." And how it works is that they ask a question a day and readers chime in. Right now, they're going through favorite show relationships. There's one on Rose Tyler and the Tenth Doctor, of course, and one zeroing in on the meeting of Tennant's Doctor and The Fifth Doctor, as played by Peter Davison. Craig (James Corden) and Sophie (Daisy Haggard) from the 2010 episode, "The Lodger" is also featured. Fun stuff!
• This week, our Companion To The Doctor's Companions looks at Ace, and compares her to Scrappy Doo. On purpose.
Read More
Filed Under: