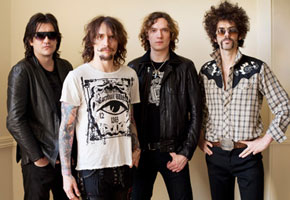 It might have been a long time coming, but today sees the triumphant return of one Britain's most preposterous bands, the Darkness, to the kind of huge audiences they once considered part of their daily routine.
The band, who shot to fame in 2003, then almost as quickly shot away again, amid brotherly rows and lost band members, are appearing at the Download festival today. It's the first time they'll have shaken a catsuited leg in front of a notoriously hard-to-please hard rock/metal audience, and it's hard to be sure how they'll go down, given the rollercoaster nature of their time in the spotlight thus far.
Also, some people think they're (whisper it) a joke band. Frontman Justin Hawkins is the first to admit, they're "terrified, but in a good way."
He told Kerrang! magazine: "What we've missed is the daunting-ness. It's one thing to
play to your fans – and that's an awesome experience – but we haven't done anything for a while that involves hostility!"
Well apart from all that fighting between yourselves, obviously.
Here's the band doing what they do best:
A welcome return or an annoying relapse? Tell us here.
Read More
Filed Under: