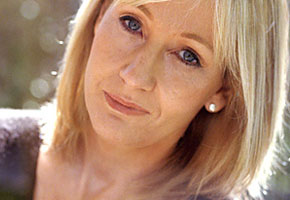 For the last week, fans of the Harry Potter franchise have been trying to puzzle out what JK Rowling's new website Pottermore is all about. There was a holding page put up, which featured two owls, so with that and the name it was clearly something to do with the fantasy world of wizards and muggles she created for the seven books. But she'd always been clear that there would not be any more stories coming about Harry, Hermione and Ron, so what was it?
Thankfully the wait is now over, and in a press conference which took place earlier today, she revealed that Pottermore is a kind of interactive archive of Harry Potter material, a collaborative mix of a Harry Potter shop, online forum, and whatever the literary equivalent of DVD extras may be.
Yes there are the basic stories in there that we already know and love, but there's extra material too, and best of all, there'll be the chance to shape how that material sits within what I am sure someone is already calling the Potterverse. It's not quite ready yet, but fans can apply now to take part in shaping how it will function, as part of a competition, which will take place on July 31st, where one million winners will be allowed in before the full launch of the site in October.
Here's the video, which also sits on the Pottermore site, in which JK explains how it'll work:
http://www.youtube.com/watch?v=i5DOKOt7ZF4
At the press conference, which took place at the Victoria and Albert Museum, JK told journalists: "I wanted to give something back to the fans that have followed Harry so devotedly over the years, and to bring the stories to a new digital generation. I hope fans and those new to Harry will have as much fun helping to shape Pottermore as I have.
"Just as I have contributed to the website, everyone else will be able to join in by submitting their own comments, drawings and other content in a safe and friendly environment – Pottermore has been designed as a place to share the stories with your friends as you journey through the site."
And she revealed that part of her motivation for doing this was because she wanted to revisit the world she had created, that leaving it when she finished the last Harry Potter book all but broke her heart: "It is true to say that finishing writing Harry, I have only cried that much, ever in my life, when my mum died.
"I've never cried for a man like I've cried for Harry Potter."
So, if you were wondering how you too can fill the void once the credits roll on the final film, wonder no more.
Will you potter more in Pottermore? Tell us here.
Read More
Filed Under: