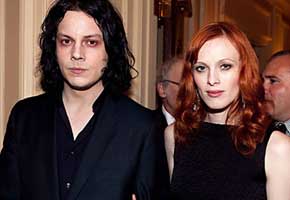 Jack White and Karen Elson have decided to call it quits, but it doesn't seem like they're shedding any tears over it. Actually, the Dead Weather/Raconteurs rocker and the British songstress/model are commemorating their six years together by having a raucous party in Nashville tonight (June 10). Or as their festively goth invitation says, it's going to be a "positive swing bang hum dinger" with plenty of "dancing, photos, memories, and drinks with alcohol in them."
The couple, who met when Elson guest starred in The White Stripes' "Blue Orchid" video, wed in Brazil in 2005. And as some of you might recall, it wasn't exactly a black-tie affair with the big cake and what not. The union was presided by a shaman as Elson and White sat in a canoe. Earlier today, they issued a statement announcing their split.
"We remain dear and trusted friends and co-parents to our wonderful children Scarlett and Henry Lee. We feel so fortunate for the time we have shared and the time we will continue to spend both separately and together watching our children grow. In honor of that time shared, we are throwing a divorce party. An evening together in Nashville to re-affirm our friendship and celebrate the past and future with close friends and family."
Cheers to Jack and Karen for breaking up in style. We wish 'em the best.
Read More
Filed Under: