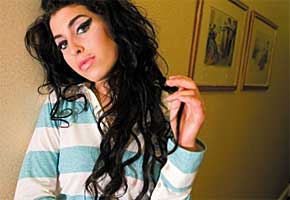 DAMMIT! We almost had her back! Amy Winehouse, that is. She was all glowing and healthy and loved-up and in and out of rehab and performing concerts and it just felt as if her troubled former life was finally behind her.
And then reports started to come in of eccentric behaviour at concerts, of baffled audiences left disgruntled and booing — as happened on Saturday night in Serbia — by her slurred words and missed cues, or her looking once again slightly lost and feral, like a skinny cat in an abandoned house.
So bad, in fact, was her performance on Saturday night that she's refused to take a fee for it, despite having played for her contracted 70 minutes.
And now there are reports in the Sun that her manager Ray Cosbert has decided to cancel the rest of her 12-date tour indefinitely. Certainly the next two gigs, in Greece and Turkey, have been axed, and it's looking doubtful that Amy will appear on stage again for a very long time.
A source said: "It has been hard for Ray to watch her get into trouble over the years. There's only so much he can do – but enough's enough. She's going away and this time it could be for years."
So, here's a quandary. What do we want? A fully-returned to health Amy Winehouse, or a fully-returned to health Amy Winehouse who still performs? I only ask because it's possible we can't have both.
Tell us here.
Read More
Filed Under: