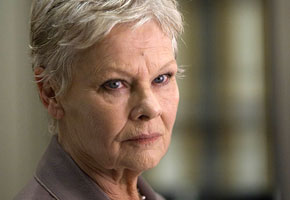 It's always nice to be recognised for what you do, even if the item of recognition is a little baffling in and of itself. Take Dame Judi Dench, who has been awarded the Freedom of the City of London for her services to acting.
She got to attend a special ceremony at the Chamberlain's Court, at the Guildhall, she received an immaculately calligraphed parchment certificate from the City of London Corporation, and of course, she receives special privileges (or at least, she would do if it was still the olden days).
One of these is the right to be hung by a silken rope, instead of one made out of, er, rope. That's assuming they reinstate the death penalty and Dame Judi does something awful, of course.
She told the BBC: "I look forward to being able to drive my sheep over London Bridge, and occasionally wearing a sword in public."
Which set us thinking. What privileges could the award carry nowadays? Actually useful ones, that is…
1: The right to select the music everyone listens to on a bus.
This would come with a remote control, which forces all speakerphones and tinny headphones to play whatever music Judi chooses, in perfect synchronisation. This would only be a problem if she were to get on a bus with another Freeperson of the City.
2: The right to half-raise the drawbridge at Tower Bridge
…so that you can do jumps over it on a bike. Possibly not a privilege that Judi would make the most of.
3: The right to use the bus lane.
You'd have to have some kind of diplomatic flag, to prevent being pulled over by the police, but it'd be worth it.
4: The right to a cream tea from any food establishment.
Yep, even McDonalds. What use is a privilege if people don't have to make the effort?
5: The right to barge to the front of queues at London tourist attractions.
Self explanatory, really.
Over to you, what rights should you expect with the Freedom of the City?
Read More
Filed Under: